A former journalist will soon stand the court for collusion with former property tycoon Phan Van Anh Vu, alias Vu Nhom, in acquiring public property illegally in the central coastal city of Danang.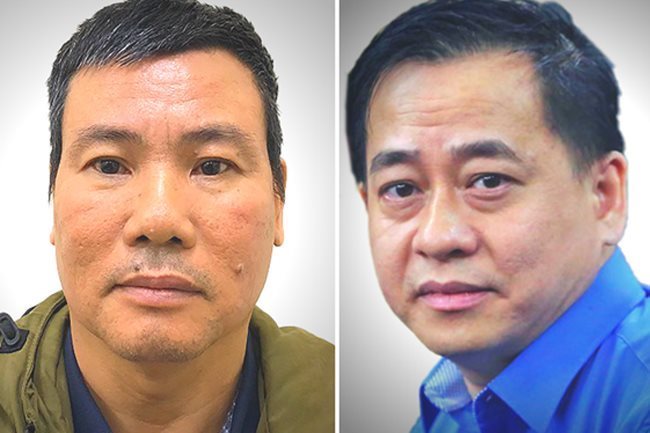 Former journalist Truong Duy Nhat (L) of Dai Doan Ket newspaper and former Danang-based business tycoon Phan Van Anh Vu, alias Vu Nhom, are pictured in this combination photo – PHOTO: TNO
Investigators from the Ministry of Public Security proposed charging Truong Duy Nhat, 55, former head of the Danang representative office of State-run Dai Doan Ket (Great Solidarity) newspaper between 1998 and 2011, with abuse of power and position while on duty, based on Article 356 of the 2015 Penal Code.
In June this year, Nhat was initially charged with abuse of power and position to misappropriate assets. However, investigators later changed the charge and concluded that he was guilty of violating Article 356.
According to investigators, the Danang People's Committee had a policy in 2003 that facilitated the sales of public land and housing for locally based public service units to use as their headquarters.
Nhat, the then-head of the newspaper's Danang office, signed three documents that were sent to the municipal government to purchase a public house at No. 82 Tran Quoc Toan Street on behalf of Dai Doan Ket, without asking for its editorial board's approval.
In July 2004, the city government sold the house to the representative office of the newspaper at a price of VND674 million.
Nhat later illegally transferred the property to the 44-year-old Vu, who was director of Bac Nam 79 Construction JSC, at the same price.
The former journalist was accused of causing financial damages of more than VND13 billion (US$560,000) at the time his violations were discovered in April 2018 as the property had not been put up for auction.
Investigators also found that Le Quang Trang, former editor-in-chief, and Bui Thuong Toan, former deputy editor of Dai Doan Ket newspaper, were negligent, with serious consequences.
However, the timeframe for charging them with these violations had expired, so they avoided facing criminal liability, based on Articles 9 and 27 of the Penal Code.
In 2014, Nhat was sentenced to two years in jail for abusing the rights to freedom and democracy to infringe on the State's interests and the legitimate interests of organizations and citizens, under the Penal Code.
After graduating from the Philology Department of Hue University, Nhat worked as a journalist for Cong an Quang Nam Danang (Quang Nam Danang Police) newspaper for several years before joining Dai Doan Ket newspaper in Danang.
In mid-2010, Nhat left the newspaper and launched his own blog, "Mot goc nhin khac" (A different perspective), which featured unsubstantiated news affecting the prestige of the Party and State and arousing grave public concern.
Two face prosecution for cheating Vu Nhom
The Ministry of Public Security's Investigation Agency has proposed filing charges against Hoang Huu Chau and Thanh Minh Hung for cheating former property tycoon Phan Van Anh Vu, alias Vu Nhom.
The Investigation Agency has completed an investigation into Chau and Hung and has transferred the case to the Supreme People's Procuracy. Accordingly, the agency has proposed charging Chau and Hung with swindling, the local media reported.
Vu, while being investigated for deliberately disclosing State secrets and abusing power while on duty, accused Chau of cheating him of US$700,000 to make U.S. passports for himself, his wife and their three children.
In 2010, Vu asked Chau to help make the passports. In 2014, Chau met Hung and they told Vu they could help him for a price of US$2.2 million.
In May 2017, Vu gave Chau US$700,000. Chau asked him to fill out declaration forms for the passport applications and took his fingerprints as well as those of his wife and children.
Chau promised to deliver the passports and collect the remaining dues by August 2017.
In early December 2017, Chau told Vu to go to Singapore to receive the passports. However, when Vu arrived there, Chau told him that the passports were in the United States.
On December 27, 2017, Vu was arrested in Singapore for violating the Immigration Act of Singapore and was later deported to Vietnam.
When Chau was arrested last year, he claimed he had only received US$150,000 from Vu and had transferred all of it to Hung's son.
Meanwhile, Hung stated that he had received US$5,000 from Chau, but his son did not admit to receiving any money from Chau.
Both Chau and Hung admitted that they did not know anyone or any organization that could process U.S. passport applications for Vietnamese citizens. They had promised to make the passports for Vu to swindle money.
Investigators found that Chau had appropriated US$145,000 and Hung had swindled US$5,000 from Vu. SGT/VNN