Living in accelerated change through new technologies, True North School leads in the creation of a new global learning pathway to prepare students for the future economy through a growth mindset, an active learning ecosystem, character development.
Founding team
Samuel and Danny Hwang, two brothers born in South Korea but raised in America, returned to fully embrace their roots by bringing premium international education to the next generation of leaders in Asia.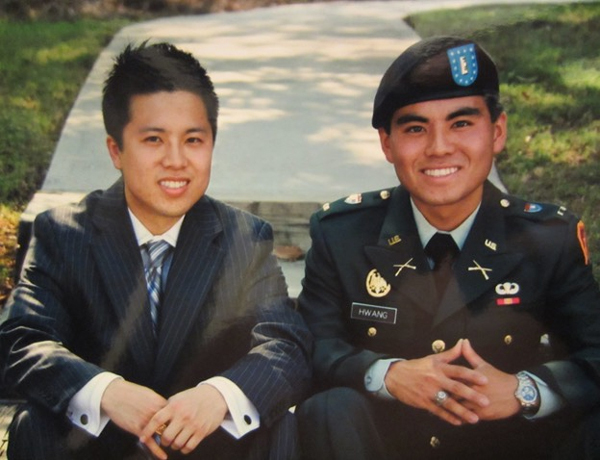 Hwang brothers, Founders of NPX Point Avenue and True North School.
After graduating from the Massachusetts Institute of Technology (MIT), Samuel returned to Asia in 2009 to start New Pathway Education & Technology Group in China. Danny, a former US Army Ranger, left the military to join Samuel to build their dream side-by-side. They exited to one of the leading private equity firms in the world, CVC Capital Partners, and founded NPX Capital, an alternative investment firm that supports entrepreneurs through all stages of growth. NPX Capital has successfully deployed capital across the US, South Korea, and emerging markets in Southeast Asia to back founders who are building the next wave of great companies.
Danny graduated from the United States Military Academy, an institution renowned for its instruction in world-class leadership. He founded NPX Point Avenue, an education technology firm headquartered in Singapore, with his brother. NPX Point Avenue offers students across Southeast Asia international-level education at the highest quality and leverages cutting edge technology in the classroom.
Focused on the K12 private bilingual, True North School, and K12 after-school, Point Avenue, the company champions an educational model focused on the 4 pillars of excellence: character, leadership, academics, and physical fitness. NPX Point Avenue has achieved a 97% admissions acceptance rate for students into their top 3 choice universities ranging from Harvard, MIT, Stanford, and more.
K12 school expansion
NPX Point Avenue has continued to accelerate its growth in Vietnam and Southeast Asia. Coming in the fall of 2022, True North School opens their doors to international and local students, offering a K12 school under the leadership of Michael Lambert, Head of School.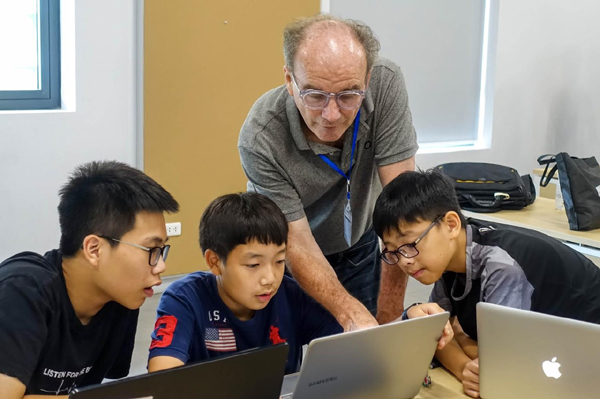 Michael reviews the students' media production.
Michael, an expert of innovative technology with 40 years of experience in K12 education, has been a presiding Chair of the Western Accreditation Schools and Colleges in Asia since 1993. He also founded events such as TED-talks for students, entrepreneurship and debate clubs, and film festivals. Recently, he was awarded Apple Distinguished Educator (ADE) by the tech giant Apple for his contribution on utilizing technology in the classroom.
World-class educators
Highly skilled teachers at True North School have a collective experience of more than 100+ years operating K12 schools with prestigious degrees globally. Through their Research and Development Institute, TNS equips teachers with pedagogical innovations in subject teaching and educational techniques to advance faculty instructional programs.
"According to the World Economic Forum's Future of Jobs survey, a wide range of occupations will require a higher degree of cognitive abilities – such as creativity, logical reasoning and problem sensitivity – as part of a student's core skill set. At TNS, our faculty is reshaping the facility designs and the new learning journeys for students," says Michael.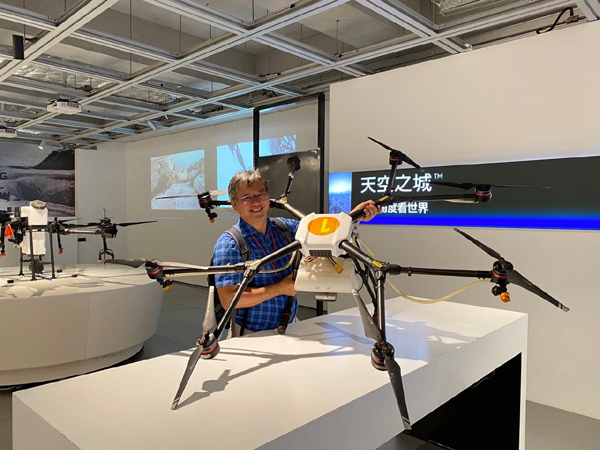 Dr. Peter Tong, True North School Global Advisory Board member, visits DJI, a multinational drone manufacturing company in Shenzhen. In collaboration with Peter, drone and aviation clubs will be offered at True North School.
Location and facilities
With two campuses in Hanoi, True North School has a total land area of 15,000m2, offering a spacious and imaginative educational environment for around 1,000 students in Ha Dong District of Hanoi. The campus has over 50 classrooms, 13 multi-purpose rooms, and studio rooms for art, music, digital media, drama, culinary arts gallery and Makerspaces – a True North School's signature.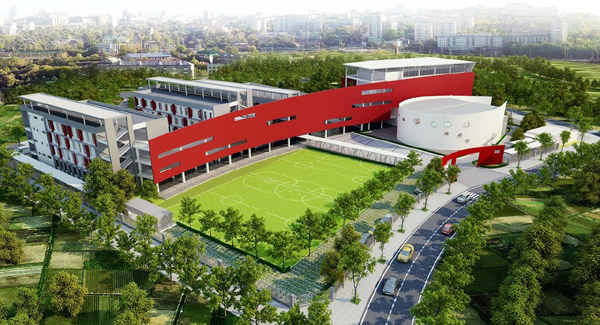 Overview of the True North School's campus design, European Village Ha Dong, Hanoi.
True North School is equipped with an indoor sports area, regulation size football field and swimming pool to meet the needs of student's desired activities through its 1:8 ratio of teachers and students. 
"Planning for the future, TSQ is proud to partner with True North School to design an innovative learning hub that prepares students for not only the 21st century, but also the 22nd century. True North School offers an education that fits today's future workforce," says Do Quan, CEO of TSQ Vietnam Co. Ltd.
#1 STEAM school and online high school
Offering Advanced Placement (AP) courses and a hybrid learning platform, K12 True North School offers a bilingual and STEAM-focused program. Not only will the students learn from teachers based on campus, they also have the option to interact and absorb knowledge through the True North School Online School team, modeled after Stanford Online High School. The True North School hybrid-learning offered, are taught by international online instructors, many of whom hold a Masters or PhD in their academic field, and deliver dynamic lessons to the whole class.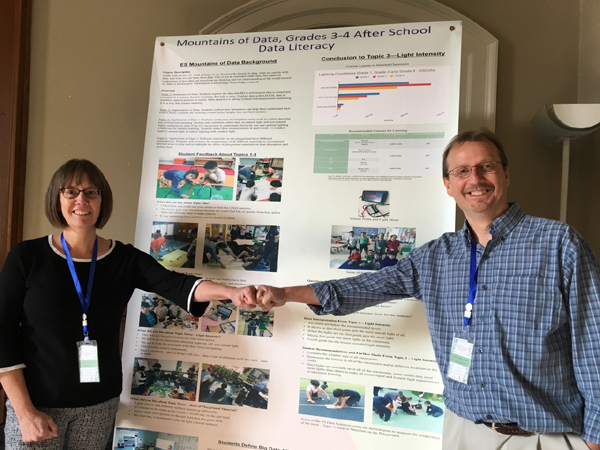 Craig and Lori Gingerich, 25 years each within international K12 schools, spearhead True North School's STEAM curriculum.
Beginning in Kindergarten, students start their educational journey developing their e-portfolio, coding in primary grades, social entrepreneurship skills in secondary and internships within the community in high school. Coupled with the latest technology, True North School transforms teaching by ushering in new models from hybrid learning to working with scientists, engineers, environmentalists, entrepreneurs, and business leaders.
Students embrace STEAM lessons each day which are integrated with the Ministry of Education and Training (MOET)'s Science, Math and IT curriculum as well as Singaporean National Mathematics and Columbia University Teachers College's English syllabus.
Beyond academic rigor, True North School prepares students to develop an intrinsic desire for learning through its character-based curriculum and physical fitness program, leading balanced lives as a global citizen.
Core values
True North School is an engagement-driven learning community. The faculty nurtures all perspectives of children's development and learning – from social-emotional and cognitive skills to literacy, math, and science – through a globally benchmarked curriculum.
Living in accelerated change through new technologies, True North School leads in the creation of a new global learning pathway to prepare students for the future economy through a growth mindset, an active learning ecosystem, and character development.
"Modernizing our educational system allows True North School to achieve our goals. Our approach to the organization of people, spaces, time, and technology cultivates a new generation of entrepreneurs, innovators and global thinkers," says Danny Hwang.
PV