The latest COVID-19 wave to hit Vietnam is more complicated to deal with than previous ones as there are various sources of infection,
according to Dr. Nguyen Huy Nga, former director of the Preventive Medicine Department under the Ministry of Health.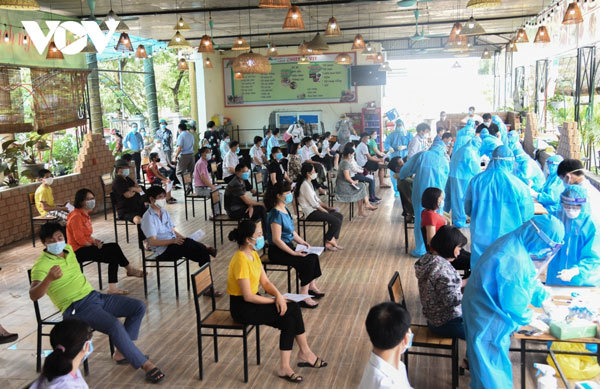 Massive testing is underway in Vinh Phuc, a coronavirus hotspot in Vietnam.
Vietnam has recorded 64 locally transmitted COVID-19 cases since the virus recurred in Ha Nam Province on April 28.
Over the past eight days, the virus has since spread to 10 cities and provinces nationwide and is now expected to impact a greater number of localities, for infected patients have used public transport, visited crowded locations, and met lots of people.
The National Hospital for Tropical Diseases in Hanoi has become the latest COVID-19 hotspot after detecting 22 cases on May 4 and 5, including 17 patients who are currently receiving treatment at the hospital.
At present, Vietnam has swiftly identified a number of infection sources, with outbreaks occurring in Vinh Phuc and Ha Nam provinces originating from quarantine cases.
The source of infection at the National Hospital for Tropical Diseases remains unknown, although doctors insist that it comes from the department for inpatient treatment. In addition, Da Nang City in central Vietnam has also confirmed several cases, although experts have yet to identify the source.
Dr. Nga believes it is becoming harder and more complicated than ever for Vietnam to deal with the fresh COVID-19 waves as the latest infections are not localised cases. The recent major sources of infection have tended to come from large gatherings, patients traveling back and forth between destinations across the country, whilst the resurgence of the virus coincided with the four-day public holiday which began on April 30.
Most notably, genome sequencing done on the latest clusters of infection in Ha Nam and Vinh Phuc indicate that Vietnamese patients have carried both the mutated variant B.1.1.7 which originates from the UK and the variant B.1.617.2 from India. Both mutations are believed to be more transmissible than previous strains.
This means that the virus is almost certain to spread to more localities throughout the country, with additional cases expected in the coming days, says Dr. Nga. 
The health professional also warns of the potential threat of a new outbreak in southwestern border localities due to acts of illegal entry, as well as lax management of concentrated quarantine facilities.
Dr. Nga says the tightening of quarantine areas must be carried out by the health sector with the support of relevant agencies in localities. Quarantine facilities must therefore be placed under strict scrutiny in accordance with regulations set out by the Ministry of Health.
"Clusters of infections at Ha Nam and Vinh Phuc show that those who violate quarantine rules at home and cause the virus to spread to the community must be sanctioned according to the law. Supervisors will also have the joint responsibility," stresses Dr. Nga.
He also underlines the necessity of tightening the monitoring of individuals who move from quarantine facilities back to their residence, as well as their time undergoing self-isolation at home following the mandatory quarantine period.
"Paid quarantine facilities like hotels reveal shortcomings in management, therefore we must review, adopt stricter regulations, and have a stronger commitment of hotels to comply with quarantine rules," notes Dr. Nga.
The virus recurred in Ha Nam in late April through a local resident returning from Japan who violated self-isolation rules at home following his 14-day mandatory quarantine. The man, who was later diagnosed with the SARS-CoV-2 virus, travelled and met friends in various places, with more than 10 cases confirmed to have close links to the man.
Similarly, a group of Chinese experts violated self-isolation rules in Yen Bai province by travelling to several localities, including Vinh Phuc Province, where a cluster of infections was later detected.
VOV

Vietnam has 19 new cases of COVID-19 to report for the past 12 hours to 6pm of May 3, according to the Health Ministry.

A total of 20 new cases of COVID-19 were confirmed on May 2, including 12 imported entrants, and 8 community infections in the northern provinces of Ha Nam and Vinh Phuc, according to the Ministry of Health.