Deputy Prime Minister Trinh Dinh Dung has approved the first phase of the Long Thanh International Airport in the southern province of Dong Nai.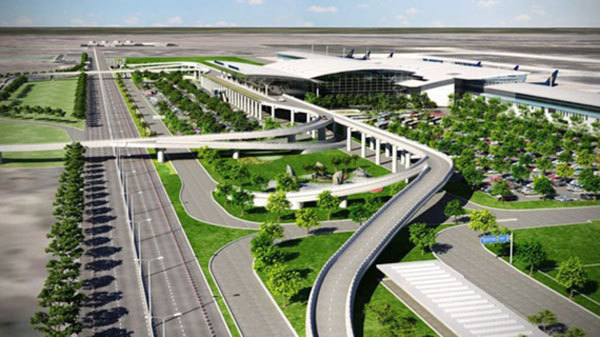 A rendering of the proposed Long Thanh International Airport in the southern province of Dong Nai. - Photo courtesy of Airports Corporation of Vietnam 
The project has four component projects such as headquarters of State management agencies, flight management services, essential airport facilities, and other works.
Major works such as airport buildings, the aircraft apron, passenger terminals, and cargo terminals will be built by the Airport Corporation of Vietnam (ACV), which operates 21 airports across the country.
ACV has to raise funding for the construction.
The first phase of the airport, expected to cost more than US$4.6 billion, is projected to be completed by 2025.
The investment was approved by the National Assembly in 2017, which also issued a resolution on compensation and resettlement of and support for affected individuals and organisations.
Prime Minister Nguyen Xuan Phuc urged Dong Nai Province authorities to hand over the required lands in October so that construction of the airport could begin early next year.
He also set a deadline for assessing cleared land for compensation purposes by the end of this month.
The Ministry of Transport should work closely with the province to promptly resolve all challenges to ensure the project remains on schedule, he said.
The airport work requires more than 5,000ha of land and more than 364ha elsewhere to build two resettlement sites.
Around 4,800 households and 26 organisations are expected to be relocated to make way for it. 
Spread over a total area of more than 5,580ha, the airport will straddle six communes in Long Thanh District. It is expected to cost VNĐ336.63 trillion ($14.47 billion), with the construction divided into three phases. 
In the first phase one runway with a length of 4,000m, taxiways, an apron, and a passenger terminal with other auxiliary works involving a total floor area of ​​373,000 sq.m will be built to serve 25 million passengers and 1.2 million tonnes of cargo each year. 
The airport is expected to have four runways, four passenger terminals and other auxiliary works to ensure a capacity of 100 million passengers and 5 million tonnes of cargo a year by 2040. 
Tan Son Nhat International Airport in HCM City, the country's largest, has been seriously overloaded for years, both in the air and on the ground.
The Ministry of Transport said Long Thanh International Airport is a key national project that would have a significant impact on the southern key economic region.  VNS

The Ministry of Finance (MOF) has warned about problems with the Long Thanh International Airport project, citing capital arrangement capability.

The government's report to the National Assembly on the implementation of the Long Thanh International Airport project on October 9 shows that little has been done over the last five years.