The northern mountainous province of Yen Bai suffered losses of nearly VND3 billion (US$130,400) after hail and thunderstorms on Monday evening, according to initial reports.
Hail and storms in northern mountainous region cause $1.1 million in damages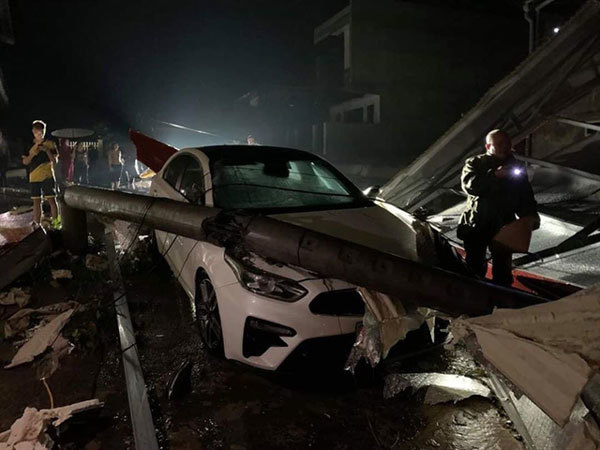 An electricity pole falls on a car in Yen Bai City. — Photo Yen Bai Province's Television
Four people were reported to have been injured in Yen Bai City. One victim suffered serious head injuries and is in a critical condition, according to Vietnam News Agency.
All of the injured are being treated at the provincial general hospital.
A number of trees and electricity poles in Yen Bai City fell, causing flooding in some areas and blackouts across the city.
The hail and thunderstorms started at about 7pm and lasted for 30 minutes, Tuổi Trẻ (Youth) newspaper reported.
The hail stones were not large but fell across the province in large quantities.
About 2,000 houses suffered damage and three collapsed. Others had roofs blown away.
Twenty-three electricity poles fell in Yen Bai City.
Seven cars were damaged by falling trees.
Houses in Yen Bai are damaged by the hail and thunderstorms. — VNA/VNS Photo

The northern mountainous province of Tuyen Quang on Monday night saw rainfall of up to 20mm.
Hail and thunderstorms damaged 416 local houses. Two of them collapsed while another two had roofs blown away.
More than 360ha of newly-cultivated rice fields and more than 80ha of vegetables and fruits were destroyed.
According to weather forecasts, a cold spell is moving towards to the north, bringing heavy showers, thunderstorms and strong wind to the region.
Rain is forecast to engulf north-central and central regions in coming days.
Temperatures in the north are predicted to drop to between 15 and 18 degrees Celsius.
Mountainous region might be under 13 degrees Celsius. However, the cold spell will not last long. — VNS

L.V.M, 32, of HCM City's District 12, was electrocuted while working on a roof. On June 5 he came in contact with a high-voltage cable and fell from a height of five metres, and was rushed to the Military Hospital 175.