Hanoi's Mayor Chu Ngoc Anh has signed a document on the 24/7 duty regime on testing and vaccinations.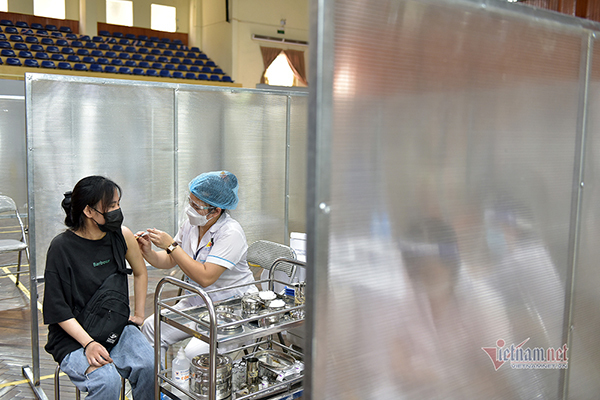 The city's People's Committee has asked leaders of districts and towns to implement a large-scale testing campaign in the entire city, ensuring safety and efficiency, so as to timely discover infection sources and isolate the sources and stamp out the pandemic.
It has urged local authorities to draw up detailed plans and organize vaccination campaigns in every ward, commune and town. There are two important principles: 'the best vaccine is the one that is given the earliest' and 'all vaccines must be used up as soon as they arrive'.
The document says that mobile clinics must be set up in areas which are still under social distancing. In other localities, mobile clinics must be organized in communes, wards and towns, ready to deal with community transmitted cases.
The People's Committee has asked local authorities to have a 24/7 duty regime to ensure timely receipt and handling of all information, and to carry out disease prevention work.
Leaders must take responsibility before the municipal authorities and Party Committee about the organization of the testing and vaccination program.
The municipal authorities asked officials and people to be on high alert about the pandemic, warning that lack of vigilance may lead to serious consequences.
According to the Hanoi Healthcare Department, the Ministry of Health (MOH) has allocated 1 million Sinopharm vaccines to the city, with the first inoculations starting on September 9.
Hanoi so far has received a total of 4.3 million Covid-19 vaccine doses, which does not include the 1 million doses allocated to hospitals and central units in the locality.
To implement the large-scale testing and vaccination campaign in Hanoi, the city will receive support from 11 cities and provinces, including Bac Giang, Bac Ninh, Hung Yen, Ha Nam, VInh Phuc, Hoa BInh, Thai Nguyen, Hai Duong, Phu Tho, Quang Ninh and Hai Phong.
To speed up the vaccination process, Hanoi will vaccinate people in the evening as well and set up more immunization points at cultural houses and schools. Before getting an injection, all people will have to have a rapid antigen test.
The city aims to have 100 percent of people aged 18 and more vaccinated with their first shot by September 15 in accordance with Resolution 21 and the Prime Minister's instructions. 
Huong Quynh

All 33.1 million doses of COVID-19 vaccines shipped to Vietnam so far have been distributed to localities nationwhile, meeting 20 percent of the demand for the national vaccination plan, said the Ministry of Health.

Hanoi has asked the Ministry of Health (MOH) to give guidance on allowing fully vaccinated people to travel and participate in production and pandemic prevention activities.