Secretary of the Hanoi Party Committee Dinh Tien Dung said that with a population of about 10 million, Hanoi needs more than VND1 trillion to realize the goal of giving free Covid-19 vaccinations (the first dose) for its people.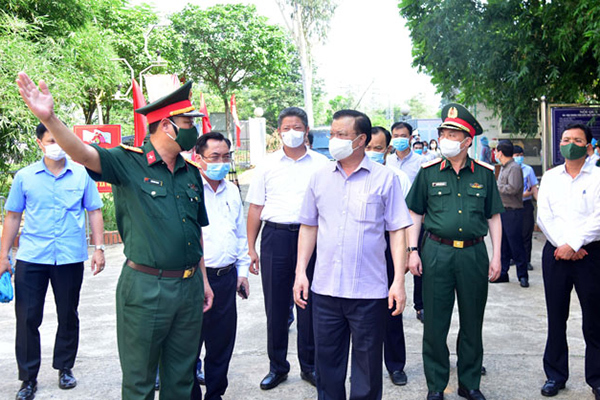 Hanoi Party Secretary Dinh Tien Dung inspects epidemic prevention and control activities in Thach That district. Photo: Viet Thanh
Mr. Dung told the media that in this situation it is very difficult to completely prevent Covid-19 if the entire population is not vaccinated. The epidemic can return at any time and threaten the stability, security and safety of the whole society.
The Prime Minister has focusex on a vaccine strategy and the government has established a vaccine fund. For Hanoi, the city defines the spirit of "the State and the people to work together" to realize the goal of creating community immunity.
The city plans to buy vaccines for frontline forces and priority subjects first, then the people, using the state budget and the city's Covid-19 Prevention and Control Fund. The vaccination will be free for the entire population.
According to Mr. Dung, with a population of about 10 million, Hanoi needs at least 5-6 million doses for the first round of vaccination to create community immunity, with the required fund amounting to more than VND1 trillion.
"The need is great, the demand is more and more urgent. But the city's Covid-19 prevention and control fund is still very small compared to the need," said Mr. Dung. He said that the city needs the support of "sponsors", especially businesses and entrepreneurs.
He encouraged investors in urban area projects to support the city's vaccine program and buy vaccines for their residents. And domestic and foreign enterprises, especially those in industrial zones, can buy free vaccinations for their workers.
Dung believes that Hanoi businesses and entrepreneurs are not only rich in wealth but also rich in affection and compassion and they will actively contribute to the common goal of repelling the epidemic.
Huong Quynh