The Hanoi bus rapid transit (BRT) 01 route, which had investment of thousands of billion dong sourced from the World Bank (WB) loans, has failed to meet expectations after five years of operation.
When investing in the construction of this route, local authorities expected that it could reduce the number of personal vehicles and traffic congestion in the city thanks to its advantages of large transport capacity and fast speed. However, after five years of operation, these targets have not been achieved.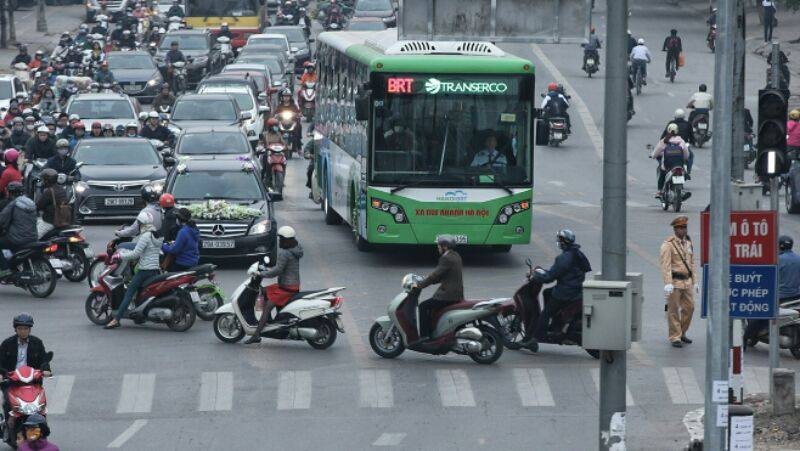 The priority lane for BRT is occupied by private vehicles
Every day, during rush hour (7:30am to 8:30am), the roads of Le Van Luong and To Huu Street are congested because huge numbers of vehicles flow to these center-forward roads. Without the presence of traffic police officers or functional forces, the priority lanes for BRT on these roads are occupied by private vehicles and the rapid transit buses are unable to run at designed speed.

Ms. Le Thi Linh in Van Khe urban area, in Ha Dong district, Hanoi, told VietNamNet that sometimes she took a rapid bus from her home in Ha Dong to Giang Vo street. However, during peak hours, the special lane for BRT buses was usually congested because of the encroachment of private vehicles.
Mr. Le Ngoc Minh, a resident in Ba La, Ha Dong district, said that so far BRT can be seen as a major failure of Hanoi. This is an overall failure from the vision on urban transport planning.

As BRT routes are set on high-traffic volume roads, with many high-rise buildings, the road area for traffic is too narrow with many intersections, so they cannot work effectively.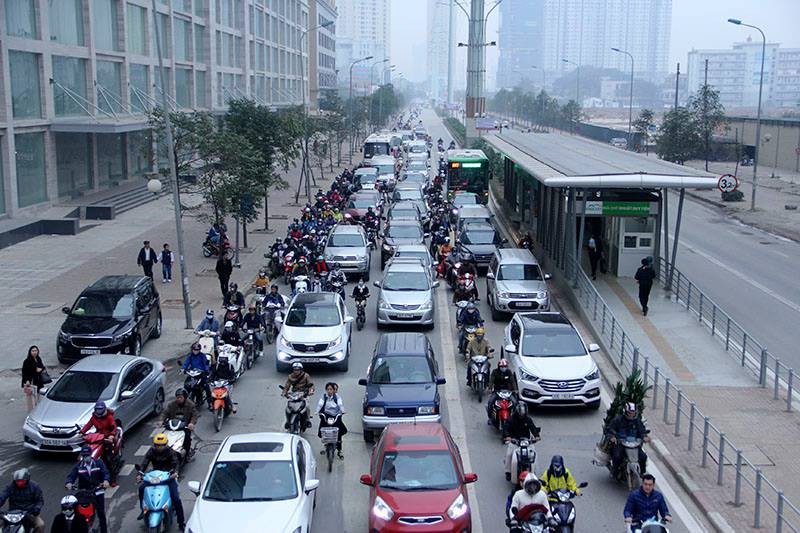 The priority lane for BRT is occupied by private vehicles
"BRT lanes account for 1/3 of the road and go through many intersections, so all the roads with BRT lane are congested. In addition, the fact that some BRT stations do not have flyovers for pedestrians poses a traffic safety risk," Minh said.

In fact, Hanoi has come up with solutions to address shortcomings for BRT routes. One of them is to allow normal buses to run on the priority lane for BRT buses. However, the bus stations are often located on the right side of the road. To call at stations to pick up passengers, normal buses have to cut the road, making traffic more chaotic.

High cost for failed tests

Traffic expert Nguyen Xuan Thuy said that the reason for the failure of Hanoi's BRT routes is that the city has used an imported model from other countries without relying on actual traffic conditions in the city.

Mr. Bui Danh Lien, Vice Chairman of the Hanoi Transport Association, acknowledged that BRT is an advanced model of public transport. However, on Hanoi's narrow roads, problems have risen, as BRT buses conflict with private vehicles.
The BRT buses are operating like normal ones, but the investment is huge, Lien said. Hanoi had to borrow capital to implement this project. It was a very expensive price for an experiment that has not worked as expected, he added.
Gia Van

Lieutenant Colonel Doan Ngoc Minh Tuan, Deputy Head of the Da Nang Traffic Police Department, said the deployment of traffic cameras has eased work pressure on police officers.