Hanoi starts shutting down all food and beverage establishments as well as hair salons and beauty parlors from 12:00 on May 25 so as to contain the spread of the coronavirus SARS-CoV-2 which causes COVID-19.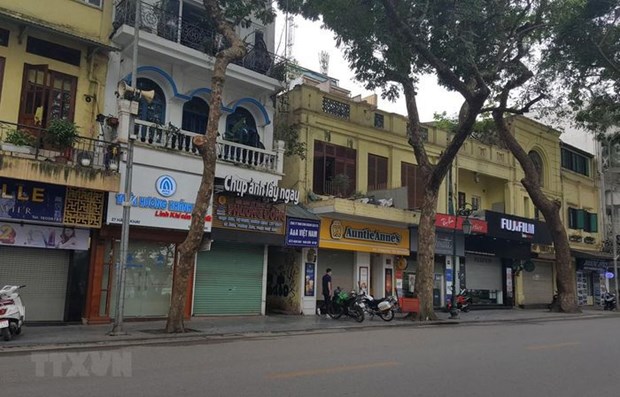 Hanoi temporarily closes all down on-site restaurants, hair salons (Photo: VNA)
A dispatch issued by Chairman of the municipal People's Committee Chu Ngoc Anh says food and beverage facilities can only allow takeaways and residents must absolutely stop entertainment activities, physical exercises and large gatherings in parks, gardens and public locations.
People returning to Hanoi from other localities starting May 25 must submit medical declarations within 24 hours. Those who returned to the city between May 10 and May 24 should also do so until the end of May 25.
Vingroup, T&T Group and other businesses are requested to test employees and residents living on their premises for COVID-19.
The latest decision follows the formation of several COVID-19 clusters associated with either the T&T Company or buildings in Times City, which is owned by Vingroup.
The municipal Health Department was requested to direct public and non-public medical facilities to continue tightening pandemic prevention and control and ensure absolute safety at hospitals and health clinics.
The dispatch also asks the municipal tourism department to re-check all quarantine zones in hotels and residences. All facilities found unqualified to quarantine people must stop receiving new people, and existing zones in hotels and residences in downtown districts would gradually receive fewer people before stopping completely.
Meanwhile, talking to the media on May 24, Politburo member and Secretary of the municipal Party Committee Dinh Tien Dung affirmed that the city has yet to consider applying social distancing.
He asked local residents to strictly follow the Ministry of Health's 5K message: khau trang (facemask), khu khuan (disinfection), khoang cach (distance), khong tu tap (no gathering), and khai bao y te (health declaration).
The municipal Department of Transport requires buses to transport no more than 50 percent of the seats and no more than 20 people at a time, including the driver and the assistant.
COVID-19 testing in central Hanoi as several cases recorded
People living in Hà Nội's Hoàn Kiếm District were tested for SARS-CoV-2 on Monday after several positive cases were found in the district.
Those living on Nguyễn Khắc Cần and Phạm Sư Mạnh streets plus those working at T&T Group's Building at No 2A Phạm Sư Mạnh Street were tested after positive cases were reported at the building.
On Monday afternoon, Hà Nội's Centre for Diseases Control announced seven more SARS-CoV-2 cases, all T&T Company employees who had close contact with patient 5,243 who lives at Park 11, Times City in Hoàng Mai District.
As of Monday afternoon, the Hà Nội CDC had found at least 10 SARS-CoV-2 positive cases related to patient 5,243.
In a related development, as many as 1,909 families with 5,752 residents living in four blocks in Goldmark City Urban Area at 136 Hồ Tùng Mậu Street in Hà Nội's Bắc Từ Liêm District have been isolated after a resident who assisted local poll workers during Sunday's election tested positive for SARS-CoV-2.
The 43-year-old woman also works with patient 5,243. 
As head of the local area's Women's Union, she assisted polling work at R3 Apartment Block from 6.30am to 9.30am on Sunday.
As many as 30 people had close contacts with her and 178 others were identified and tested for SARS-CoV-2, according to a district official.
The four apartment blocks in the Goldmark City urban area have been locked down. Disinfection was done at the yard of R4A Block, its 23rd floor and other floors where she travelled to.
The woman reportedly works with patient 5,243 and they spoke for about one minute on May 20 when wearing face masks and standing two metres apart.
On the afternoon of May 21, she went to Đồng Xa Market on Trần Vỹ Street and a funeral house at No1 Trần Vỹ Street on May 22.
On May 23, she assisted poll workers at R3 Block of Goldmark City on election day.
The city's Centre for Diseases Control on Monday morning announced nine places across the city relating to newly confirmed COVID-19 cases, calling people who visited the places from May 9 to May 22 to stay at home for self-quarantine and contact local healthcare centres or call the hotlines 0969082115 or 0949396115.
The places include T&T Company at 2A Phạm Sư Mạnh Street, Hoàn Kiếm District and SUNDLED Company at No 96, Block D6, Đại Kim Urban Area in Hoàng Mai District. People who visited the two companies from May 9 should submit heath declarations to authorities as soon as possible.
In additions, authorities are also searching for people who went to AHA Café at 59 Lê Thanh Nghị, Hai Bà Trưng District at about 7pm on May 14, Mạnh Hoạch Chicken Restaurant at 171 Lê Thanh Nghị Street at 8pm on May 17, an internet gaming store at No3 Hamlet, 121 Lê Thanh Nghị Street between May 9 and 22, a café at 127 Lê Thanh Nghị Street between May 9 and 22 and Highlands Coffee at 127 Lò Đúc Street in Hai Bà Trưng District around 12.30pm-1.30pm on May 20.
A confirmed COVID-19 case was also reported to visit a car registration office near Lừ Temple in Hoàng Mai District on the morning of May 22 and Thanh Hà beef hotpot restaurant on Lạc Trung Street in Hai Bà Trưng District about 6.30pm-8 pm on May 22.
Regarding a tax officer who had close contact with patient 5242 at SUNLED Company, the General Administration of Taxation announced on Monday morning that the officer worked at its office from May 10 to May 22 at 123 Lò Đúc Street.
The department strictly followed requirements from the city's Centre for Diseases Control, disinfected all the offices and all people present at the office on May 24 will stay there until there is official confirmation about the suspected case. 
Hanoi takes tough stance to stop the spread of COVID-19
Sweeping new restrictions will be enforced in Hà Nội later today as the authorities desperately try to contain the spread of COVID-19.
The drastic measures will see the closure of all restaurants, cafes, and hair salons from noon on Tuesday May 25 in a bid to limit community infections.  
Hà Nội's People's Committee Chairman Chu Ngọc Anh also ordered anyone who visited other cities and provinces over the past two weeks to make immediate medical declarations upon their return.
Exercising in public places and gatherings in parks and flower gardens will also be halted.
Since the fourth wave of community cases began at the end of April, there have been 126 community transmissions in the capital city, including four new cases announced on Tuesday morning.
The municipal People's Committee has asked the Health Department to co-ordinate with the Capital Military Command and the People's Committees of all districts, wards and towns to urgently review and expand concentrated quarantine areas.
Hotels currently being used as quarantine facilities will also be inspected to make sure regulations are being adhered to. The city will gradually reduce and stop using hotels as quarantine facilities.
The Hà Nội People's Committee also requested that districts, wards and towns review pandemic prevention measures in residential areas, hamlets, households, production establishments, especially apartment buildings, hotels and student accommodation.
Meanwhile, following a spike in cases at the Times City complex, Vingroup has been asked to organise SARS-CoV-2 testing for all employees and residents.
A similar request has been made to T&T Group Joint Stock Company.
This comes after cases were confirmed at the P11 apartment block within Times City and T&T Group with the authorities unable to trace the source of these infections.
Deputy Director of the Department of Health Hoàng Đức Hạnh warned: "In the future, it is likely that new cases will continue to be recorded outside the community because of the long time the cases have been outside the community, have moved to many places, and came into contact with many people."
Thanh Xuân district authorities have also locked down 17 floors of block 17T4 in Trung Hòa - Nhân Chính with 123 flats as one positive case was reported here.
On Tuesday morning, the Ministry of Health reported 57 new COVID-19 cases, of which 45 cases in Bắc Giang Province, four in Hà Nội, four in Lạng Sơn Province and two in Hà Nam Province.
VNA/VNS

Along with the 5K message, Vietnam is strictly implementing three counterattacks: large-scale testing; implementation of a vaccine strategy; and application of technology for Covid-19 tracing.