Hanoi's Transport Department has spent roughly US$4.7 million to upgrade a section of road connecting the streets of Nguyen Trai, Tran Phu and Quang Trung in the districts of Thanh Xuan and Ha Dong.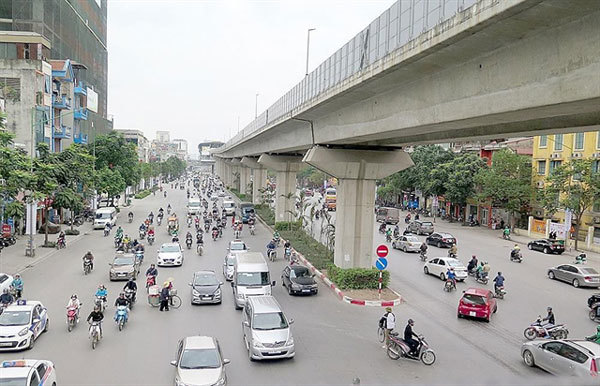 A section of Nguyen Trai Street under the Cat Linh - Ha Dong urban railway in Hanoi.— Photo baogiaothong.vn
The streets run under the Cat Linh – Ha Dong urban railway project.
The upgrade was necessary because much of the route had been dug up to make way for the project, said Ngo Manh Tuan, deputy director of the department.
Infrastructure for the project was basically completed, but road surfaces were uneven, posing a high risk of traffic accidents, he said.
The upgrade was scheduled for completion by the end of this year, online newspaper Giao thông (Transport) reported.
Tuan said as planned, the city would spend about VND59.5 billion (US$2.5 million) to improve a 3.4km section of Nguyen Trai Street, VND32.8 billion ($1.4 million) to upgrade a 3.1km section of Quang Trung Street and more than VND17.4 billion ($751,000) to repair a 2.3km section of Tran Phu Street.
The funding, totalling nearly VND110 billion (about $4.7 billion), would be drawn from the city's budget, he said.
Tuan said repair units would fix cracks and uneven spots between 10pm and 5am every day to avoid affecting traffic.
After fixing the problems, the streets would be repainted and divided into six lanes with digital traffic signs, he added.
Bus routes changed
In another move, the transport department has decided to change bus routes that run along the streets of Le Duc Tho and Le Quang Dao until January 7, 2020 to make way for construction of a race track for the Vietnam F1 Grand Prix 2020.
The No 26 will start from Tan My Street instead of Le Duc Tho Street, and the No 50 will switch from Le Duc Tho Street to Van Canh urban area in Hoai Duc District. The No 104 will change from Le Duc Tho Street to My Dinh 1 urban area, and the No 84 will stop on My Dinh Street instead of Le Duc Tho Street.
The No 74 will run along Pham Hung and Thang Long Boulevard instead of Pham Hung – Me Tri – Le Quang Dao – Thang Long Boulevard as before.
Previously, the department banned all coaches and truck from Le Duc Tho and Le Quang Dao and the intersection of Le Quang Dao and Me Tri between October 19 and December 10.
The department will ban all vehicles from the two streets and the intersection between December 10 and January 7, 2020.
The department has submitted a proposal to the People's Committee to direct relevant agencies to co-operate to ensure traffic flow in the city during the ban. VNS

Approval of completed work, auditing and origin issues are among the reasons for the delay of the  official launch of the Chinese-funded 13.5-kilometer-long Cat Linh-Ha Dong urban rail line in Hanoi.
The ongoing commercial trial will be monitored by Vietnamese employees from state-owned Hanoi Metro Company Limited.

The first set of trains for the Nhon-Hanoi elevated railway project manufactured by a French company will arrive in Vietnam next June, according to the capital city's urban railway management board.