The Hanoi government has ordered harsh punishments for individuals and organizations caught violating regulations on the management and use of the Soc Son protected forest in Hanoi City's Soc Son District from 2006 to 2018.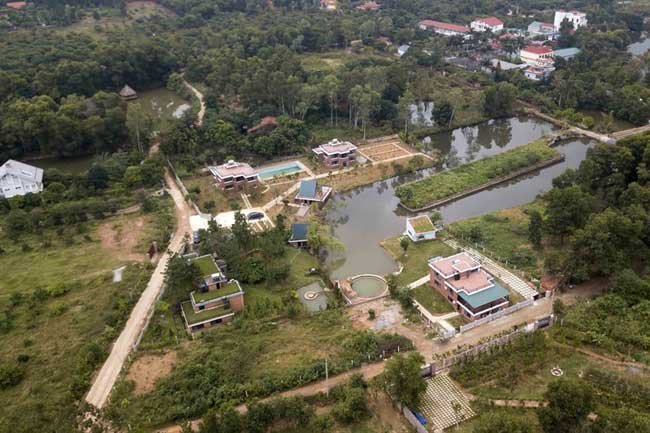 An aerial view of several illegal constructions built on protected forest land in Hanoi's Soc Son District. Hanoi City government will impose penalties on violators involved in the case
The chairman of Soc Son District was assigned to report on the liability of and impose strict penalties on those who failed to address the conclusions of the Government Inspectorate, issued in 2008, and the instructions by the prime minister and Hanoi City government on the management of the protected forest land in the district. Their mismanagement has allowed many more violations to occur since then.
The district authorities will have to work out a detailed plan, with solutions to deal with developments illegally erected on forest land.
In addition, forest land lots in Soc Son Town and 10 communes in Soc Son District, which were granted land use rights certificates, will be reviewed.
The city government also required the director of Hanoi Irrigation Investment and Development Co., Ltd, to issue penalties to the director of its subordinate in Soc Son District for his involvement in the case.
Meanwhile, the head of the Hanoi Department of Agriculture and Rural Development will have to enhance control over reservoirs and protected forest land in Soc Son District and impose penalties on the director of the Hanoi protective and special-use forest management board.
The director of the municipal Department of Natural Resources and Environment must also learn from the department's shortcomings in land management and determine the liability of the director of the land register office in Soc Son District for illicitly transferring land use rights.
Also, the director of the municipal Department of Construction was assigned to reprimand its inspectors for their violations, as stated in the Government Inspectorate's conclusions.
Reports on the illegal transfers of forest land lots in the district will be transferred to the municipal police for further investigation.
Hanoi Chairman Nguyen Duc Chung said today, April 9, that the municipal government would meet with the Government Inspectorate to address the large illegal constructions on Soc Son's protected forest land.
The city government will urge municipal departments and agencies in Soc Son District to seriously act on the conclusions of the Government Inspectorate, Chung added.
According to the Government Inspectorate's conclusions in 2008, 659 constructions were illegally developed on forest land in Soc Son. However, in early 2017, the district authorities identified 555 illegal constructions, but up to 485 of this total have remained unaddressed.
The 2017 data on violations, verified by the district government, was deemed inaccurate. The inspectors noted that the number of illegal constructions in Minh Tri and Minh Phu communes alone totals 797.
In addition, the government of Soc Son District failed to handle the transfer of 336 forest land lots.
In most cases, the relevant sides did not have land use rights certificates, but their deals have still been certified by communal authorities. SGT