During the last quarter of 2020, the HCM City Department of Transport sought for the municipal government's approval of five elevated road projects to be started in 2021.
This is a bid to solve the nightmarish problems of traffic jams at the city's hotspots.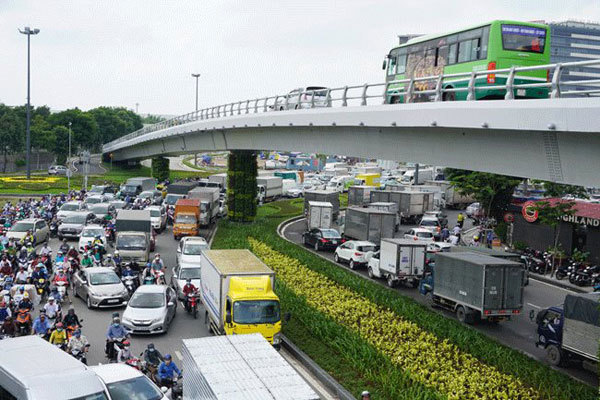 The erection of elevated roads will definitely ease traffic jams in key traffic junctions in HCM City. This photo shows heavy traffic at the entrance of Tan Son Nhat airport – Photo: Thanh Hoa
During a short interview with Tuoi Tre newspaper in late October, Dr. Vo Kim Cuong, former Deputy Chief Architect of HCM City, said the city's traffic infrastructure failed to meet its economic and population growth. In this context, argued the architect, the proposal of the construction of elevated roads was necessary and construction ought to be started soon.
To ease traffic jams at key traffic hubs in HCM City, steel overpasses have been built. However, traffic jams lessened for a short time after these overpassed had been put into operation and became worse soon afterward. The transport authorities insisted that the only way out is to build elevated roads, reported Tuoi Tre. 
Priorities
Of the five proposed elevated roads, the Department of Transport suggested that Elevated Road No. 1 should be built first. This 9.5-kilometer project, including one kilometer of the two-lane section and 8.5 kilometers of the four-lane section, requests total investment worth VND17.5 trillion and will be funded by local budget. Its construction is scheduled for 2020-2030.
The priority of Elevated Road No. 1 chosen by the Department of Transport was echoed by Vo Kim Cuong. Mr. Cuong attached importance to this road as it would help ease the traffic problem plaguing the area of Tan Son Nhat airport and the adjacent routes, such as Truong Chinh, Cong Hoa and Phan Thuc Duyen.
Likewise, the Department of Transport also proposed foregrounding the construction of Elevated Road No. 5 to ease traffic jams and better connect the East-West axis by enabling drivers to avoid busy radial routes. This elevated road starts from Station 2 on National Highway No. 1 in District 9 and Thu Duc District, and ends at An Suong and An Lac traffic junctions covering a distance of 34 kilometers.
As a project of this big scale needs enormous capital, the Department of Transport suggested it should be divided into two phases. The first phase, slated for 2020 to 2025, links Station 2 with An Suong traffic junction, which is 21.5 kilometers long, and costs VND15.4 trillion to be financed by the public-private partnership (PPP) model. In the second phase, the An Suong-An Lac section, scheduled for 2025 to 2030 and about 12.5 kilometers in length, would be constructed. 
Costs
Ha Ngoc Truong, vice chair of the HCM City Association of Bridges, Roads and Ports, gave strong support for the construction of the elevated roads. He told Tuoi Tre that these roads would run through sparsely populated areas in the city, which means that land compensation is not very high.
Mr. Truong said he opted for the PPP project model which he said would facilitate the participation of the private sector. The State should be responsible for only site clearance and land compensation. Private investors would pool capital and collect fees to refund their investment.
Architect Vo Kim Cuong shared Mr. Truong's view, saying that traffic infrastructure projects require enormous capital. Therefore, investment from the private sector should be mobilized. This process, said the architect, should be accompanied by mechanisms and policies which help accelerate the pace of site clearance and land compensation.
Tuoi Tre cited an executive of the Cuu Long Corporation for Investment Development and Project Management of Infrastructure who said that the expansion of National Highway No. 1 from Station 2 to An Lac traffic junction would require huge costs for the compensation of people's houses along the highway. Consequently, the building of an elevated road is more feasible because land compensation is much lower.
Talking to Tuoi Tre, Le Quoc Binh, general director of the HCMC Infrastructure Investment Joint Stock Company, said his company is scrutinizing the proposal for constructing elevated roads No. 2, 3 and 4, including the connection with Elevated Road No. 1 as it may ease traffic jams immediately. "This suggestion has been submitted to the Department of Transport," said Mr. Binh. "The department said it is studying our suggestion so that it can be forwarded to the municipal government for consideration."  SGT

The city will focus on major transport projects that help ease traffic gridlock and scrap less urgent ones since resources are limited, the HCM City government has said.

HCM City should build an integrated elevated road system to tackle traffic congestion as land for transport in the inner city has become scarce, experts have urged.