Many high schools in HCM City have begun to conduct tests to match their students' aptitudes with future careers, take them to universities or bring university staff to talk them about careers.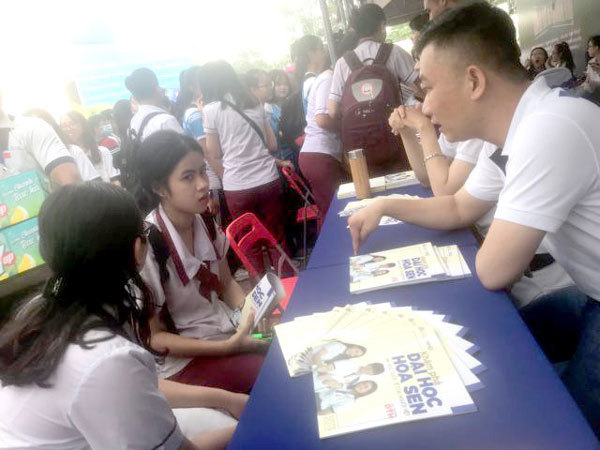 High school students receive counselling in choosing careers, majors, and universities at a Career Day held by Hoa Sen University at a stadium in District 1 on Saturday. VNS Photo Gia Loc
Unlike in the past, many high schools are now paying close attention to career guidance and counselling to help their students identify their career paths.
Nguyen Huu Canh High School in Binh Tan District, for instance, carries out these programmes twice one year for their students.
"These programmes began at the school when I was in 10th grade," a 12th grade girl student, who asked not to be named, said, adding they helped her find out that she would like to become a teacher.
Vo Thi Anh Thu, a 12th grade student at the Dao Son Tay High School in Thu Duc District, said her school has invited staff from city universities to talk about students' prospective careers.
"The guidance is very exciting and has helped me find out that jobs related to art are suitable for me."
Vo Dinh Thanh Tuan of Pham Van Sang High School in Hoc Mon District said: "I want to become a doctor, but there are many universities for me to choose from."
So he often takes part in career counselling programmes in school and outside to understand how he should choose his university.
Tran Thanh Dung of Tran Phu High School said his school has a lot of career guidance and counselling activities. For instance, the school took 12th graders to a Career Day held by Hoa Sen University at a stadium in District 1 on Saturday.
The event attracted more than 5,000 students and their parents and teachers from high schools around the city, and they directly met with staff and lecturers from Hoa Sen, Gia Dinh, Ba Ria-Vung Tau, and Hong Bang international universities.
The event had the theme Career Orientation in the 4.0 Era, and Dr Vu Tuong Thuy, vice rector of Hoa Sen University, said: "Students should raise the question of who they are and what they want to do for themselves."
"They should be confident in their choice and try to study to master technologies in the Industry 4.0 era."
Phan Van Giang, a career counselling specialist at Hoa Sen University, said students should choose careers that suit their knowledge and skills, family's financial condition and social demands.
"They also should study foreign languages, technologies and skills which could help them avoid unemployment after they graduate in the next four or five years when many jobs including their majors become obsolete in the Industry 4.0 era."
Dr Tran Duc Canh, a member of the National Council for Education and Manpower Development, said career counselling is very important for students to help build an effective long-term career pathway. VNS

Many university graduates admit that they have had take jobs as workers at factories.v

Employers are complaining about the lack of skills of Vietnamese students and university graduates. Many of them don't even know how to write an application for a job.
Gia Loc