More than 80 world-renowned cardiologists and cardiac surgeons presented the most recent advancements in a three-day cardiovascular diseases prevention and rehabilitation at a scientific conference that ended on Friday in HCM City.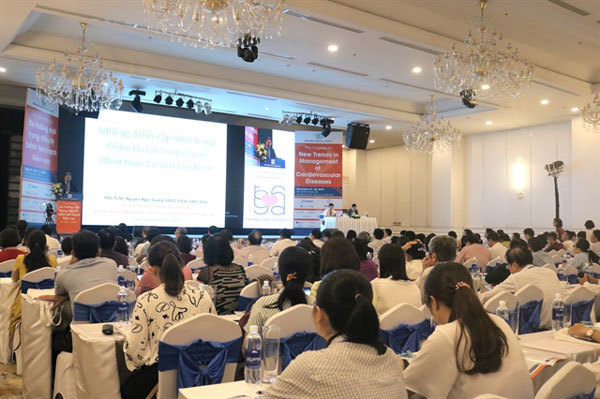 More than 1,200 clinicians, scientists, doctors and researchers from the US, Germany, Finland, the UK, and Vietnam have gathered to discuss the latest advancements in the field of cardiology at a three-day conference in HCM City that opened on Thursday (October 31). — VNS Photo Thu Hang
More than 1,200 clinicians, scientists, doctors, and researchers from Vietnam, the US, Germany, Finland, and the UK attended the conference.
Around 100 papers were tabled on topics such as acute coronary syndrome, heart failure in clinical practice, updates on cardiovascular issues, primary prevention in coronary artery disease, comprehensive protection against cardiovascular events, cardiac imaging, cardiomyopathy, recent advances in cardiovascular surgery, and updated guidelines on management of cardiovascular diseases – metabolic.
Truong Quang Binh, deputy director of the University Medical Centre HCM City, the conference organiser, said many new recommendations and research works in cardiology have been published this year.
The annual scientific conference provided an opportunity for clinicians, doctors and researchers to learn about the latest advancements in the field of cardiology and compare notes.
It helped improve the diagnosis and treatment of cardiovascular diseases, he said.
Discussion on primary prevention of coronary artery disease, which can greatly affect the development of cardiovascular diseases, was one of the highlights of this year's conference.
Cardiovascular diseases are the most common cause of death globally.
In Vietnam, they claim 200,000 lives a year, or 33 per cent of all deaths, according to the Ministry of Health.

Women who suffer heart attacks are dying needlessly because they fail to recognise their symptoms and receive poorer care than men, says a British Heart Foundation report.  
VNS