The HCM City Department of Health plans to set up a centre that will oversee the supply of medical personnel if the number of COVID-19 infections begins to spread widely in the community.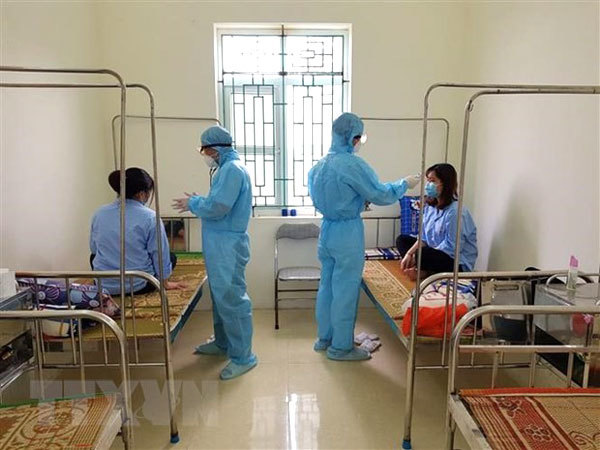 Doctors at An Thi District Health Centre in Hung Yen Province check body temperatures of people who have been placed in isolation. VNA/VNS. Photo Dinh Tuan
Big data on medical personnel has been compiled that will help regulate the number of necessary personnel, the department said.
According to reports from the city's surveillance system, HCM City as of late yesterday afternoon had no new COVID-19 case. The city has 274 people isolated in areas in Cu Chi, Nha Be and 7 districts.
Under instructions from the city's People's Committee, the Department of Health's pharmaceutical affairs and financial planning divisions have also set up big data on medicine and medical materials to serve emergency needs such as epidemic prevention.
Of the total of nearly 19,000 doctors at hospitals and health facilities in the city, only 349 doctors specialise in infectious diseases, according to Nguyen Thanh Phong, the committee's chairman and board's head.
Phong, who spoke at a meeting between the city's steering board for COVID-19 prevention and control held on February 29, said "the number would not be enough if an epidemic broke out widely".
He said the department should open more short-term training courses on COVID-19 disease treatment for medical personnel who work in other specialties.
The department has organised four training courses on how to screen, admit, isolate and treat patients for doctors who work at departments for infectious diseases and internal medicine.
It has also opened courses on treating patients with severe pneumonia caused by COVID-19 for doctors and nurses in emergency and intensive care departments.
Staff at field hospitals have also been trained in COVID-19 prevention and control.
Phong has told the department to ensure safety for medical staff and doctors taking part in the prevention and control of the disease. In addition, more capital is needed to provide allowances to these doctors and nurses, and to buy more equipment.
If the disease spreads widely, the People's Committee will use the 40,000-bed dormitory of Vietnam National University-HCM City for isolation and prevention of the spread of COVID-19.
According to the Department of Health, the city has 1,478 standard beds for isolation.
Nguyen Tan Binh, head of the Department of Health, said that medical quarantines had been carried out strictly and that surveillance of people from countries where COVID-19 had spread has been strengthened.
The city has asked people from China, South Korea, Italy and Iran to fill out medical declarations when they arrive in Vietnam. VNS

The HCM City Department of Health plans to transform one or two hospitals into emergency hospitals to quarantine and treat patients infected with the new coronavirus.

A substantial number of tour cancellations amid fears of the new coronavirus has wiped out some VND920.5 trillion of HCMC's tourism earnings, reported Thanh Nien newspaper.

The HCM City Department of Construction has urged district administrations to instruct the managements of apartment buildings to strengthen preventive measures against COVID-19 infection to ensure residents' safety.