The HCM City People's Committee has instructed the Department of Construction to set up inspection teams to ensure there is no encroachment on the Sai Gon River's banks.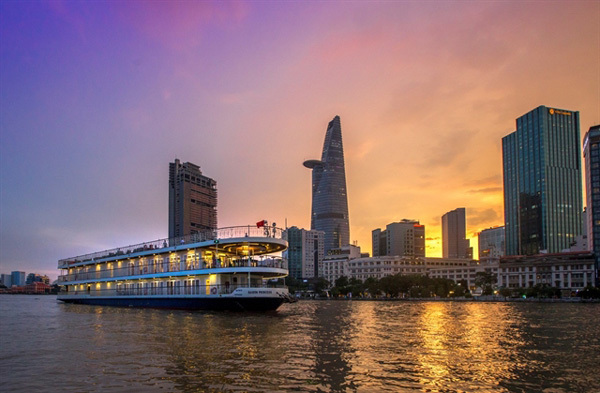 The Sai Gon River is important to HCM City as its fresh water supply and a waterway route with many ports.— VNS Photo Van Chau
At least 100 works will be checked for encroachment, according to the department.
They are in nine districts: 1, 2, 4, 7, 12, Binh Thanh, Cu Chi, Hoc Mon, and Thu Duc.
The inspectors will assess the legal records of 88 approved projects adjacent to the river and 33 housing projects in river protection corridors and propose penalties for projects that have violated regulations.
The city requires riverside construction sites to be allocated 30-50 metres away from river banks.
But the Saigon Riverside joint venture's Riverside project has 13 structures located a mere 7.5m from the river, and Van Minh Co., Ltd. has buildings 10m from the bank.
Others violators include Hai Vuong Co., Ltd., The Minh Construction Co., Ltd., SSG JSC, and Geleximco South.
The inspection results will be sent to the People's Committee by January 15.
Construction works are endangering the banks of the Sai Gon, which supplies drinking water to the city.
Originating from Binh Phuoc, the river runs through the provinces of Tay Ninh and Binh Duong before reaching the city, where it flows for around 80km.
From a boat, it is easy to see many construction works along both banks of the river.
In districts 12, Binh Thanh, Go Vap, Thu Duc, and 2, dozens of houses are built along the water. A dozen houses and buildings have been built along the riverbank in Thu Duc.
Houses and other works can also be seen along the bank of the river in Thao Dien Ward in District 2.
Construction of embankments has narrowed the river in some places.
Architect Ngo Viet Nam Son, a construction expert based in the city, said the encroachment of the safety corridors and banks had affected the flow of the river and posed a risk of collapse of the banks.
All works flouting safety regulations issued in 2004 must be removed to ensure safety, he warned.
The city's Department of Planning and Architecture has also urged the People's Committee to order inspections and impose stringent penalties for illegal encroachment. — VNS

At least 101 projects along the Saigon River in HCMC will be inspected by the competent municipal agencies to determine whether they have encroached on the river.

The HCMC government has assigned the municipal Department of Construction to set up an inspection team to look into the use and management of the banks of the Saigon River.