Entering the medical treatment department of HCMC's Eastern People Military Hospital, people are surprised to see a robot wearing medical scrubs with the traditional scarf of the southern region around its waist.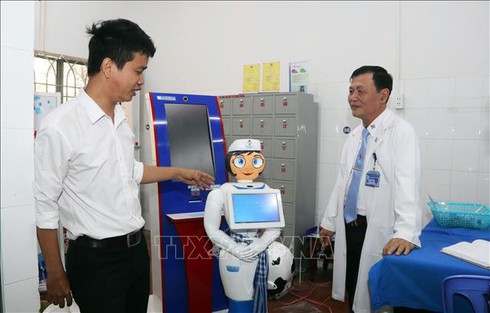 Vo Hong Quan, Director of the Centre of Information and Technology of the Eastern People Military Hospital in HCM City (left), introduces the nurse robot named Tam.
This robot nurse, named "Tam", can conduct conversations with patients about medical issues and nutrition, and warn them not to smoke or litter on the hospital grounds. Tam cost about 4,300 USD to build and costs 260 USD per month to maintain.
The nurse robot is one way Eastern Military Hospital has used computer technology to improve medical examinations and treatment since 2016.
The hospital's IT Center has been dubbed an "innovation incubator" by the Ho Chi Minh City Department of Health because it attracts IT personnel who can invent and develop new products.
Nguyen Van Hoan recently used the hospital's smart registration kiosk to check in for treatment using his health insurance card.
"I have been coming to this hospital for more than a decade. It has changed a lot in recent years. The service has improved and the equipment is more modern," said Hoan.
Colonel Trinh Ngoc Chi, the hospital's deputy director, says that thanks to high-tech improvements, more people are coming to the hospital, increasing from seven or eight hundred patients to as many as 1,800 per day.
"We have reminded the hospital staff that the patients are the ones who pay us, so we need to please them. The hospital's quality management board keeps a close eye on the service quality," he said.
Hung Vuong General Hospital's medical incident management software recently won a prize for smart medicine.
Dr. Hoang Thi Diem Tuyet, the hospital's Director, says the software tracks medical incidents and helps formulate effective solutions and preventive measures.
"In the past, the medical staff reported incidents on papers to the quality management section. It took a lot of time and was complicated. The IT application has made quality management easier and better," Tuyet said.
Thu Duc District Hospital, which averages more than 6,500 patients per day, won first prize at the 2019 Vietnam Smart Health Awards for digitizing outpatient registration. People can now register online or through a smartphone app or by scanning their health insurance card at a smart registration kiosks.
Screens have been installed outside the hospital's consulting rooms to help patients keep track of their turns.
Patients don't need to bring their medical records and prescriptions because the hospital has electronic copies of medical records in all clinical departments, according to the hospital's director, Doctor Nguyen Minh Quan.
"Developing smart hospitals and applying IT to hospital management requires a large investment. Since 2008 Thu Duc Hospital has become a leading hospital in using smart technology," said Quan.
According to Associate Profesor Dr. Tang Chi Thuong, Deputy Director of the municipal Department of Health, in recent years the local health sector has deployed a Smart Emergency Management Center, robot-assisted surgery at Binh Dan Hospital, and an AI cancer treatment application at the city's Oncology Hospital.
To keep pace with the smart health trend, the municipal health sector will build an electronic health record system for all commune, ward, and district level medical stations. VOV5
HCM City has invested extensively in smart healthcare development, with a focus on healthcare big data platform and the use of information technology in hospital management and expertise management.

The Ministry of Health has unveiled a roadmap for digitising patients' records at hospitals and setting up smart hospitals, a conference heard in HCM City on Wednesday.