The HCMC Human Resources Coordination Taskforce has proposed demobilizing soldiers and using security guard companies to participate in the Covid-19 fight.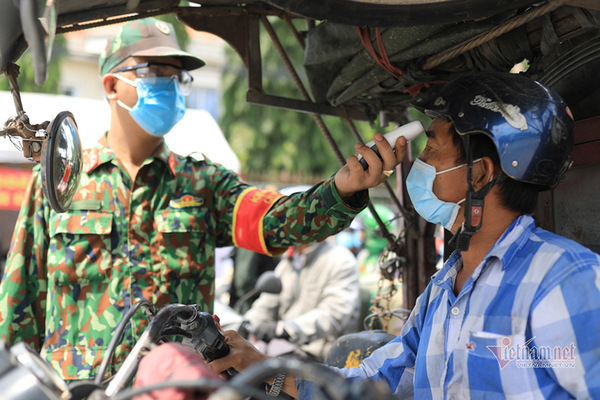 Huynh Thanh Nhan, head of the taskforce, said the medical staff of the city participating in the fight against the pandemic over the last two months are overloaded. They need timely attention and encouragement.
The HCMC Command proposed using 300,000 people from the youth volunteer force who are on 24/7 duty at field hospitals. However, only 200 can work under the regime.
Meanwhile, the number of Covid-19 keeps increasing, so the city needs more physicians and nurses capable of examining and treating Covid-19 patients (from the second to the fifth "stories" of the treatment tower model), especially intensive care doctors.
The city is rearranging medical resources to allocate resources reasonably. The focus will be given to treatment staff to reduce the mortality rate.
About 50 percent of lecturers and students at medical schools who are assisting the sample taking for testing will shift to manage and take care of F0 cases at districts' quarantine zones and Thu Duc City.
The city is also planning to mobilize 2,000 more lecturers and students with medical knowledge, 1,000 medical workers from the city's hospitals, and 1,000 medical workers from non-state facilities to participate in the treatment and transportation of Covid-19 patients.
The taskforce has proposed using mobilized soldiers in the fight against Covid-19 as a part of the rearrangement plan.
The medical staff groups from other provinces have helped HCMC but the city still needs more resuscitation specialists to serve treatment on the fourth and fifth "floors" of the treatment tower model. The taskforce asked the Ministry of Health to continue mobilizing staff from provinces and central hospitals until the outbreak is controlled.
The city also asked the Ministry of National Defence and the Government's Special Taskforce to allocate more medical staff to serve at field hospitals, and help in tracing, testing and vaccination.
HCMC has 43,844 individuals working in the healthcare sector. Of these, 16,606 are participating in the Covid-19 fight.
The city has received support from 4,253 workers from 44 central hospitals, hospitals under ministries and branches and provincial hospitals. 5,049 volunteers have registered to participate in the fight against Covid-19.
The city needs 12,000 medical workers more. City districts and Thu Duc City need 2,600, treatment units 8,400, and emergency units 1,000. It also needs 100 ambulances and 200 taxis to carry patients. 
Nguyen Son

Ho Chi Minh City has welcomed more than 6,000 medical staff who have come to support the fight against the Covid-19 epidemic.