Ho Chi Minh City's authorities this year continue to implement plans with the goal to have beggars and homeless people in general completely removed from public streets and into local shelters.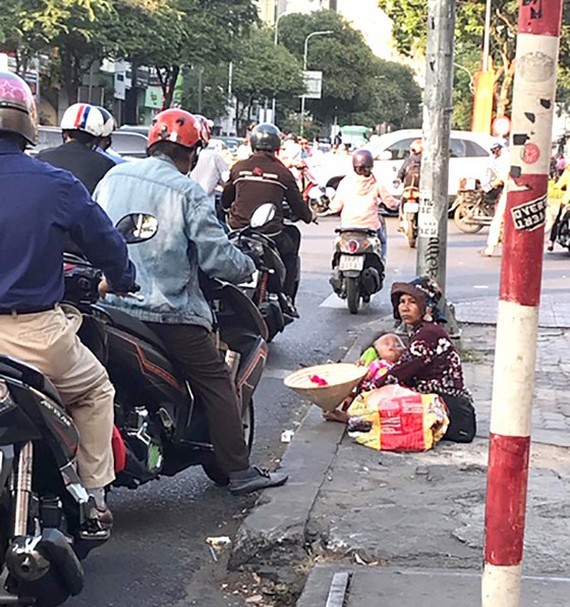 Beggars are a common sight in the city
The "art" of begging in a metropolitan city like Ho Chi Minh can take many forms, from trying to appeal to people's better nature to downright questionable behaviors.
Telling sob stories is a common method used by homeless people to ask for money. One might insist they are lost and ask for spare change for a bus ticket home, while another may push a disheveled motorbike claiming to have a flat tire to guilt-trip passersby into giving them some cash.
In another development, there have been reports of middle-age people wandering around filling stations in District 5 who would, out of nowhere, open tank caps for motorbike riders stopping for gasoline then blatantly ask for money for their "trouble".
Lots of beggars can be seen sitting on roadsides with children, in some cases obviously ill and might not even be theirs. Most notably, some would refuse people's offers to get medical helps or shelters for the children and say they would rather take care of the child on their own.
Plans doomed to repeat
The HCMC's Department of Labor, Invalids and Social Affairs is submitting to the People's Committee a plan whose goal is to completely remove beggars and homeless people from the street by 2020.
Despite the new allotted term being the period of 2019 to 2020, plans with similar objectives were implemented for many times since 12 years ago but the results have not been satisfactory.
Authorities constantly strive to relocate street beggars to social support centers or homeless shelters in order to battle the situation, said Director of the Department Le Minh Tan. 
The support centers can give a lot of homeless people access to elementary education and vocational training. Many are given temporary jobs while waiting to be returned to their hometown to settle down and transition back into the community.
Meanwhile, homeless people registered in HCMC are returned to their family, and the city will make sure the families commit to not let them live on the street again.
Each year, about 1,500 to 2,000 homeless people and beggars are gathered at HCMC Social Support Center. The Department of Labor, War Invalids and Social Affairs of Ho Chi Minh City warns citizens against giving money to them and contact the local authority instead. SGGP
Tan Nghia

Black Friday, the biggest retail promotion of the year, is ubiquitous in HCM City with most shopping centres and stores offering discounts of up to 90 per cent.

Garbage collection fees could significantly rise in HCM City from next year, with each household paying an average of VND48,000 per month more, according to a decision of the HCM City People's Committee.