The health conditions of almost all COVID-19 patients in Vietnam are stable, with no fever and shortness of breath reported, the Health Ministry announced on March 15.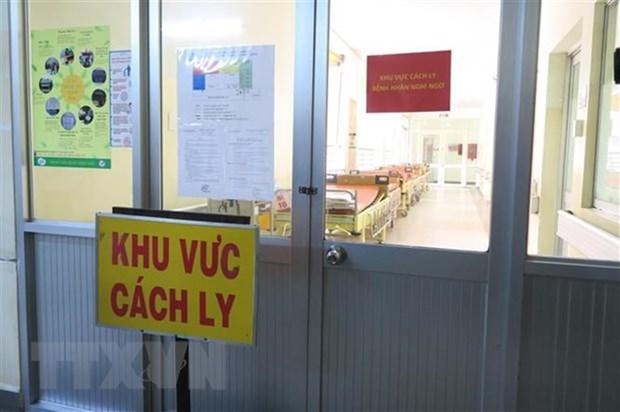 A quarantine area 
By the morning of the day, Vietnam reported 53 confirmed cases, of whom 16 fully recovered. Among the 37 new cases, there are 24 Vietnamese nationals and 13 foreigners.
The ministry said that some cases are showing symptoms of mild cough, but they eat normally and have stable vital signs.
Pham Ngoc Thach, Director of the National Hospital of Tropical Diseases, said that elderly COVID-19 patients who suffer chronic medical conditions such as cardiovascular disease, hypertension, diabetes, and obstructive lung disease often have worse symptoms than others.
They are also at high risk for severe and rapid progression, possibly with respiratory failure due to poor resistance to virus attack, he added.
No Vietnamese in US infected with SARS-CoV-2
No Vietnamese nationals in the US have so far been reported to contract the coronavirus disease (COVID-19), which is spreading in major US states and cities.
President Donald Trump on March 13 declared a national emergency over the coronavirus outbreak.
As soon as the disease broke out in China's Wuhan city and then spread to many countries around the world, including the US, the Embassy of Vietnam in the country has promptly mapped out plans and set up emergency response teams to provide the latest information from the host's authorities and Vietnam to the community.
The embassy also maintained its hotlines to receive feedback from Vietnamese citizens in case of emergency and also prepared plans to bring them back home if necessary.
Vietnamese are advised to limit travelling and going to crowded places.
Many overseas Vietnamese have promoted solidarity and mutual support via initiatives to provide medical consultancies for cases having coronavirus-like symptoms and calling for an end to the spread of fake news about Vietnamese infection cases.
The associations of Vietnamese students in some US states have carried out a number of activities to provide necessary information about the disease and support students when they face difficulties due to school closures.
Nguyen Duc Tai, Chairman of the Vietnamese students association in Boston, one of the regions with the largest number of Vietnamese students, told the Vietnam News Agency's correspodents that since the epidemic was spread to some US states, the association has maintained close contact with the Vietnamese Embassy in the US to update the latest and accurate information as well as shared useful information on Facebook to raise public awareness of virus prevention.
To date, the US has recorded over 2,200 COVID-19 cases, with 50 fatalities.

The Health Ministry announced four more cases of SARS-CoV-2 infection late March 14 based on testing outcomes from the National Institute of Hygiene and Epidemiology (NIHE) and the Ho Chi Minh City Pasteur Institute.

The HCMC Centre for Disease Control and Prevention has issued a notice urging passengers arriving in the city on Qatar Airways' QR 970 on March 10 to immediately contact the nearest medical agencies.