The Ministry of Health will mobilize all public health facilities and medical students for a vaccination campaign that will use 100 million doses of Covid-19 vaccine this year, said the ministry's top official at a recent meeting.
It is the largest vaccination campaign ever in Vietnam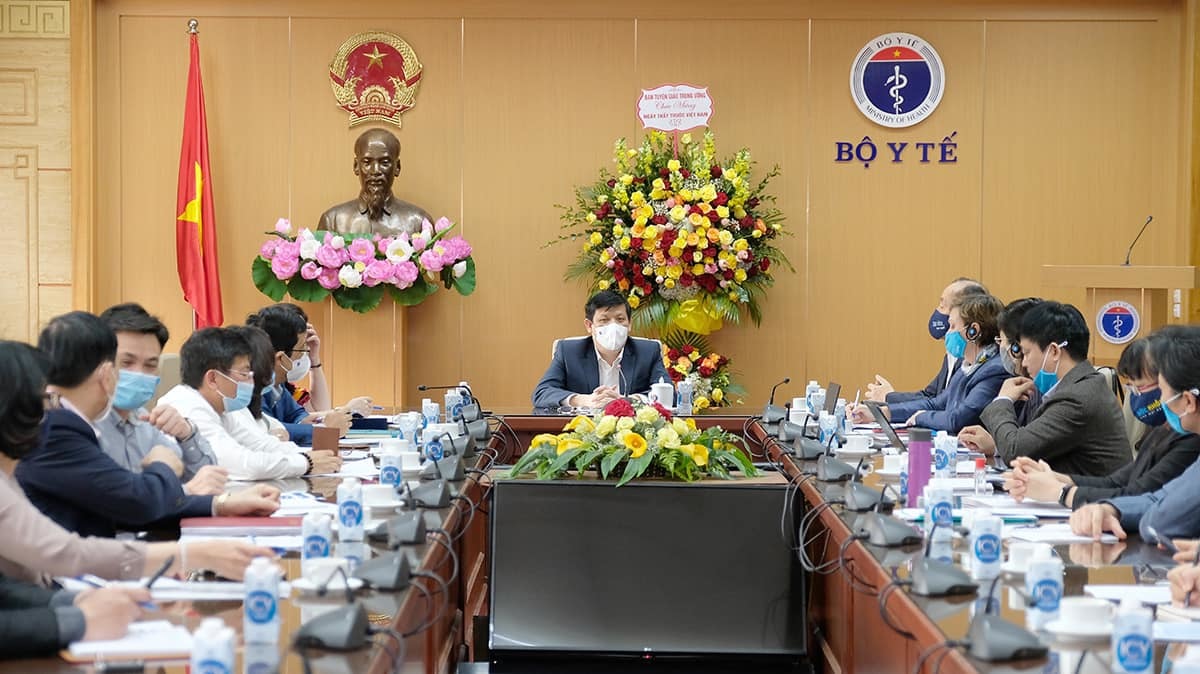 The Minister of Health held a meeting with related agencies to discuss plans to use 100 million doses of Covid-19 vaccine this year. Photo: Tran Minh
The Ministry of Health is working on scenarios to mobilize all units inside and outside the health sector to participate in the vaccination process, in order to speed up and ensure vaccination coverage. Vaccination will be offered at health facilities and mobile stations.
The Ministry of Health has also designed plans on vaccination training, procedures for organizing vaccination sites, vaccination sessions, handling post-vaccination reactions, post-vaccination monitoring and evaluating the effectiveness of vaccines.
Regarding vaccine preservation, the Ministry of Health assessed that the cold storage system and the equipment to transport vaccines meet the requirements.
The Ministry of Health said that any vaccine cannot guarantee 100% safety, especially Covid-19 vaccine which has been developed in a short time. Therefore, the monitoring and evaluation of post-vaccination response should be done very closely.
The Ministry of Health has issued guidelines for post-vaccination assessment, so that people will not panic about post-vaccination reactions.
The Minister of Health said that in order to vaccinate the entire population, Vietnam needs 150 million doses of Covid-19 vaccine in 2021. To date, Vietnam will have 60 million doses of AstraZeneca vaccine, including 30 million supplied by COVAX and the remaining 30 million doses ordered by Vietnam.
On the morning of February 24, more than 117,000 doses of the AstraZeneca vaccine ordered by Vietnam arrived at Tan Son Nhat airport. The vaccines will be used in the vaccination campaign that will start in early March, with top priority given to frontline medical workers.
The Ministry of Health is negotiating to buy vaccines from Pfizer (USA) and it is likely that Vietnam will have an additional 30 million doses from this source this year. The Ministry of Health plans to mobilize private finance sources to purchase this vaccine source.
Health Minister Nguyen Thanh Long has also met with representatives of the World Health Organization (WHO) and the United Nations Children's Fund (UNICEF) in Vietnam regarding the licensing process, subjects for vaccination, and PR program for vaccination.
Vietnam is one of the first countries to have access to COVAX's vaccine source. The Minister of Health pledged that the it would immediately solve matters related to the procedure to ensure that COVAX's vaccine will be imported to Vietnam soon.
Regarding the prioritized subjects of vaccination, they agreed to comply with the Government's Resolution, ensuring fairness in access to vaccines.
Thuy Hanh

A plane carrying the first batch of 117,600 doses of COVID-19 vaccine landed at HCM City-based Tan Son Nhat international airport at 10.40am this morning.