The Ministry of Health has asked authorities nationwide to delay an increase in the prices of a number of healthcare services that was scheduled for May to ease the financial strain on families following recent hikes in electricity and petrol prices.
Higher hospital fees lead to improved quality
Healthcare service fee cuts put pressure on hospitals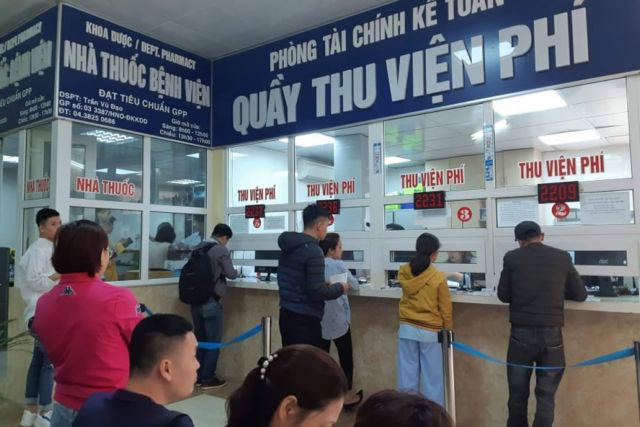 People pay medical service fees at the National Hospital of Odonto-Stomatology. — Photo laodong.vn
The ministry said although the implementation of the price adjustment in accordance with the MoH's Circular No.37/2018/TT-BYT only affected about 12 per cent of the population who didn't have health insurance cards, it would decrease the consumer price index (CPI) in many provinces.
"However, the ministry recommended localities wait for the right time to modify prices to avoid having negative impacts on residents given the recent hikes in the prices of electricity and petrol."
The MoH also requested chairpeople of provinces and cities to direct health departments to co-ordinate with the media to explain to people that the health service price adjustment was aimed at abolishing subsidies.
The MoH also asked health facilities to not charge patients' families for basic services such as water and room cleanups.
Earlier, the MoH issued Circular No 37/2018/TT-BYT prescribing ceilings of a range of prices for medical services outside the scope of coverage by the health insurance fund at State-owned healthcare facilities. The circular came into effect on January 15 this year.
In accordance to the above-mentioned circular, the number of medical services with price hikes were higher than those that were discounted, according to Deputy Minister of Health Nguyen Viet Tien.
Seven provinces and cities including Son La, Yen Bai, Thanh Hoa, Hung Yen, Dong Thap and Hanoi had issued resolutions on the adjustment of medical services, he said.
Hanoi's Department of Health announced late last month that the prices of healthcare services in Hanoi would increase on May 1.
Accordingly, nearly 2,000 healthcare services would see fees rise by between VND50,000 (US$2.1) and VND200,000 ($8.6).
The adjustment was made based on the rise in basic salaries. Current healthcare prices are calculated based on a basic monthly salary of VND1.15 million ($49), while it increased to VND1.39 million ($60) on July 1 last year.
According to Director of Hanoi's Department of Health Nguyen Khac Hien, the increase in prices would only affect patients not covered by health insurance. About 86.7 per cent of the population in Hanoi have health insurance.
VNS