HCMC annually spends some VND1 trillion on average to offer subsidies for public buses to encourage the use of public transport among the local people, but the number of bus passengers has continued to decline.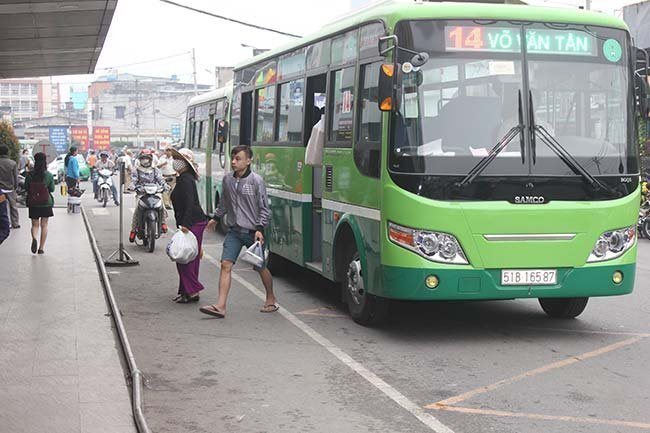 Commuters get off a bus in HCMC. The city spends an average of VND1 trillion every year on subsidizing bus services
During the first eight months of the year, the city's bus services served 131 million bus commuters, dropping over 13% versus the same period last year, according to Tran Quang Lam, director of the municipal Department of Transport.
The decline has been more visible in recent years. The number of bus users fell an average 6.6% each year in the 2014-2018 period, Lam said at a session hosted by the municipal People's Council on November 15 to field questions about the operation and development of the city's bus system.
Traffic congestion has caused the falling number of bus passengers, he explained. Some 330,000 buses experienced delays longer than 15 minutes due to traffic jams. Moreover, the rise of technology-based ride-hailing services has made bus services less competitive.
People now tend to use ride-hailing services for their short rides as they are convenient and have reasonable prices, he said.
Three years ago, the number of ride-hailing service users totaled approximately 20 million, but the figure surged to 190 million this year, showing that the commuting habits of local residents have changed.
The head of the transport department added that the city's inadequate traffic infrastructure and the shortage and unbalanced allocation of bus stops and bus stations across the districts have forced bus routes to overlap.
The city issued a scheme on bus services for the 2014-2017 period and has extended it to 2020. Under the scheme, it will purchase 795 new buses, and 614 of them will use compressed natural gas (CNG). The number of CNG buses recently reached 453 units, according to Cao Thanh Binh, deputy head of the municipal council's Economy and Budget Division.
As a modern hub, the city should have leveraged the use of clean energy for bus operations, but the number of CNG buses accounted for a modest 20% of the city's bus fleet.
Also, surveyed transport operators are expected to stop purchasing new buses, particularly CNG-powered vehicles, as there are few CNG filling stations, CNG prices will likely pick up in the coming months and there is no price stabilization program for CNG-fueled buses. SGT
Buses are positively encouraged in large metropolitan areas thanks to its safe and environmentally friendly features.

Experts have pointed out the difficulties to carry out Hanoi city proposals to open separate lanes for public buses.