Students at high schools and vocational training centers in Hanoi are expected to head back to class on December 6 if the places have no new Covid-19 infections for two weeks.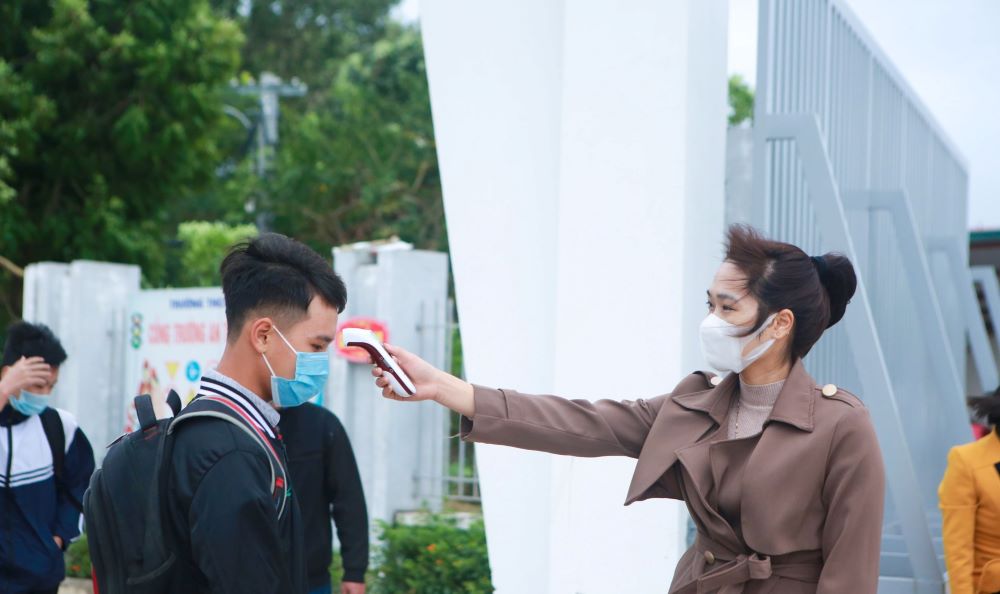 9th graders in Tam Dong Secondary School, Me Linh District, Hanoi return to school on Nov 22. Photo: Khanh Huy/ The Hanoi Times


The return to school plan would be carried out in any area of all 30 districts which are labeled free-of-Covid or low-risk areas, Secretary of the Hanoi Party Committee Dinh Tien Dung told media today [November 29].

Given the complicated pandemic evolution, Dung stressed the importance of safety guidelines released by both education and health sectors, noting that teachers of in-person classes must be double dosed while no half-boarding services are available.

"Bringing students back to school in the context of high community infections must be well prepared, ensuring precautionary measures and always putting the safety of students first," Dung said.

He warned schools of Covid-19 transmission, saying that if any infections are reported, classes must be closed to protect students.

Hanoi's decision on reopening schools is based on the level of pandemic and the vaccination rate, and experiences gained from resuming in-person classes for the 9th graders a week ago.

Since November 23, the city started vaccinating children aged 15-17 who are mostly high school students. Thus far, more than 90% of these ages got the first jabs.

Sharing with The Hanoi Times, Associate Prof. Tran Dac Phu, senior advisor to the Vietnam Public Health Emergency Operations Center (PHEOC), said the inoculation is a good move to prepare for the back-to-school plans in Hanoi. The high vaccination rate would largely help prevent children from being infected and keep them at a possible safety level when returning to school.

Hanoi has more than 2.1 million students of all levels.

As reporting no infections after one week, Hanoi's authorities consider bringing secondary students back to school "shortly after high school."

Over the past few weeks, the number of Covid-19 infections in Hanoi has been on the rise. Between November 11 and November 28, Hanoi reported more than 5,600 cases, including 35% in the community.

On November 29, its case reached 429, the highest-ever single-day figure since the pandemic flared up in early 2020.
Hanoi puts health safety above all when reopening schools
Secretary of the Hanoi Party Committee Dinh Tien Dung has requested thorough preparations for school reopening with students' health safety given the top priority.
The official said on November 29 that the Party Committee's standing members agreed on the necessity to quickly reopen high and secondary schools, but since the COVID-19 situation remains complex in the capital city and nationwide, the move needs thorough preparations and put students' health safety above all.
In the short term, the city will resume in-person teaching at high schools and centres of vocational training and continuing education in the communes, wards, and townships that are at Pandemic Level 1 or 2 (the two lowest levels) and did not record any new community infections of COVID-19 in 14 days prior to November 30.
The reopening can begin in early December, possibly on December 6, Dung noted.
He pointed out that the number of new COVID-19 cases has been on the rise in Hanoi, which saw more than 5,600 cases, over 35 percent of which were in the community, between October 11 and November 28.
Since November 23, Hanoi has carried out COVID-19 vaccination for people aged 15 - 17, mostly high school students, and over 90 percent of those in this age group have been inoculated.
After a long period of school shutdowns and online learning, over 36,000 ninth graders in 18 outlying districts have returned to school since November 22, and absolute safety has been guaranteed when no infections in schools were reported.
The Secretary said this outcome is a precious experience for the city to expand school reopening, adding that the timely and safe vaccination for children aged 15 - 17 will create a basis for high schools to resume in-person activities soon.
Meanwhile, education authorities was also asked to work closely with the health sector to ensure the progress and quality of vaccination for those aged 12 - 15 and make a plan to reopen secondary schools as soon and safe as possible./.
Source: Dtinews/VNA