Adding to the challenges brought forward last year, a lack of hospital fee increases in 2021 could put top-tier public hospitals in a war of nerves as they attempt to obtain autonomy.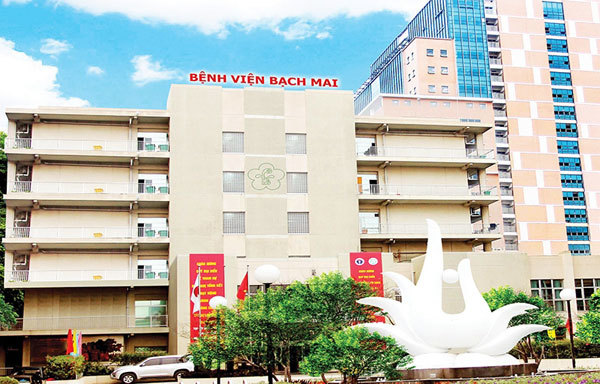 Bach Mai Hospital decided against introducing new fees after a rebuke from the MoH.
Taking over 60 minutes to transport her father from the northern province of Thai Binh to Bach Mai Hospital, one of the largest hospitals in Vietnam, in early March to test for epithelial cancer, Hang Pham stressed when hearing about possible increases in hospital fees there.
"I was worried when relatives of other patients told me that the hospital was going to increase some customised examination and treatment service fees from early April. My family is not rich enough to afford the increase," she told VIR in tears. "If my father has cancer, my family would face financial pressure."
Bach Mai in March issued Document No.454/BVBM-TCKT announcing an increase in health service fees from April. Customised examination and treatment service fees were planned to be raised depending on academic title and diploma of doctors. For example, if a patient wants to be examined by a professor doctor, they must pay VND550,000 ($24) per time, up from the current VND200,000 ($8.70). Similarly, the charges of customised sick-beds were also in the new price plan.
However, the hike almost immediately met with objection from the Ministry of Health (MoH), citing Resolution No.33/NQ-CP dated May 2019 on pilot autonomy of the four major hospitals under the MoH as saying that the framework of customised examination and treatment service fees are decided by the MoH with all necessary factors and reference from those at private-run and foreign-invested hospitals to be taken into account. And the state-owned groups are only able to change the fees within the framework.
"Due to the serious developments of COVID-19, which negatively affected livelihoods, the ministry has not issued a circular adjusting the frame of customised examination and treatment service fees at state-owned hospitals, and is yet to make any reports to the National Steering Committee on Price Management about the adjustment in 2021," Deputy Health Minister Nguyen Truong Son said in a document sent to Bach Mai Hospital on March 6.
"The MoH has asked Bach Mai not to make any increases in examination and treatment service fees until the framework is enacted," he noted.
Bach Mai's plan was an attempt to cover the difficulties it has faced during the pandemic. The hospital admitted that 2020 was a challenging year as it had to deal with the COVID-19 outbreak, while also implementing Decision No.268/QD-TTg from just over a year ago, approving the pilot hospital autonomy scheme of Bach Mai in 2020-2021, as well as May's Resolution 33.
The other hospitals in the pilot autonomy scheme are Vietnam-Germany Friendship Hospital, Central Oncology Hospital in Hanoi (K Hospital), and Cho Ray Hospital in Ho Chi Minh City. They received investment from the state budget in the past, but they now no longer receive this funding and must manage their own budget collection and spending once granted autonomy.
Like Bach Mai, the majority of hospitals also faced difficulties as the global pandemic kept people at home, resulting in a strong fall in the number of visiting patients.
Do Thu Ha, head of Finance and Accountancy at Vietnam-Germany Hospital told VIR, "COVID-19 led to an on-year drop of 3 per cent in revenue. Moreover, it cost the hospital much in pandemic prevention, thus increasing its costs by over 2 per cent. As a result, the hospital's overall performance fell 18 per cent from 2019."
Similarly, 2020 was also not a rosy year for Hanoi Medical University Hospital (HMUH), which already enjoys self-control of revenues and expenditure. Deputy Director Nguyen Thanh Binh said, "The hospital saw an on-year decrease of 1 per cent in revenue. Before the pandemic, it received about 3,000-3,500 patients a day. However, during March, April, and July of last year, the figure fell to fewer than 1,000."
Following the case at Bach Mai, hospitals including Vietnam-Germany Hospital and HMUH said that they have yet to formulate plans to increase hospital fees for 2021.
Autonomy aims to enable the hospitals to optimise the use of resources and improve their capacity and quality of services to ensure public healthcare, while maintaining and developing advanced techniques, not only to serve local patients but foreign patients as well.
But while some have succeeded, many other hospitals are still struggling to achieve such autonomy.
HMUH leader Binh admitted, "It is a challenge to harmonise between improvement of service quality and keeping the fees unchanged but we did already achieve this. We have continued practicing cost saving and have tried to keep the hospital fees unchanged for nearly 10 years, while continuing to win people's confidence, thus increasing the number of visiting patients."
Structural reforms in the governance of hospitals and performance of hospital autonomy were first introduced in developed countries in Europe and the North America. It has since been initiated in public hospitals of developing countries such as Ghana, India, Indonesia, and Kenya over the past few decades.
Hospital autonomy reforms have been promoted by the World Bank in the majority of developing countries – however, successful implementation of reforms in developed countries has not always ensured success in developing countries, mainly due to the vast differences in economic conditions and health systems.
Global studies have found that developing countries also face challenges in implementing hospital autonomy reforms due to lack of infrastructure, weaknesses in accountability mechanisms, unintended consequences and perverse incentives, lack of proper planning for implementation, limited decision rights, and more.
VIR

The prices of about 1,900 different services offered at public hospitals have increased from Tuesday (August 20), according to the Ministry of Health.
Vietnamese people are paying up to 43% of total medical expenses, two times higher than recommended by the World Health Organization (WHO), according to Dr. Le Van Kham, Director of the Department of Health Insurance, Ministry of Health.