Oncology hospitals and centres are using new techniques and medicine for cancer treatment amid a rise in cancer incidences in the country, Dr Pham Xuan Dung, head of the HCM City Oncology Hospital, said.
'Virtual tumour' new way to see cancer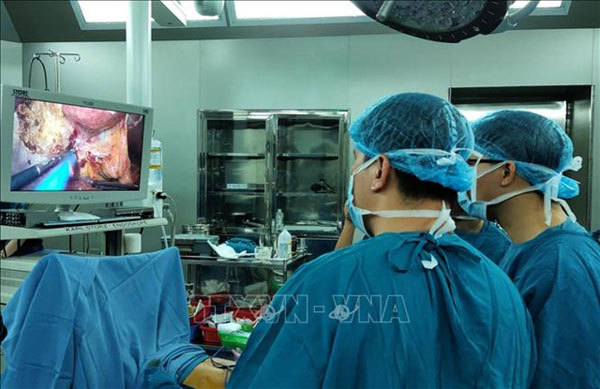 Doctors at Da Nang Oncology Hospital perform surgery on a cancer patient. — VNA/VNS Photo

In 2012, Vietnam had 125,000 new cancer incidences and more than 94,000 fatalities due to cancer, which increased to 164,000 and 114,000 fatalities, respectively, last year, according to Dung.
In HCM City, the rate of new cancer incidences each year rose to nearly 9,000 in 2016 from 6,800 in 2010.
Dung said that at his hospital the number of cancer patients has been increasing by 10 per cent each year. The hospital is now treating more than 23,000 in-patients and out-patients.
Liver cancer has become the most common among cancers, he said, claiming the spot that lung cancer has held for many years.
More oncology hospitals in Vietnam have been using advanced technologies in diagnosis, including biological character of tumours, new tests of immunisation, and cancer genome sequencing, according to experts.
This month, Dung's hospital began using a PET/CT (Positron Emission Tomography – Computed Tomography) scanner for more exact diagnosis of the stages of cancers.
Bach Mai Hospital's Nuclear Medicine and Oncology Centre in Hanoi has performed permanent radioactive seed implants for prostate cancer treatment. The I-125 radioactive seed implant method is a new technique that is highly effective and has only mild or rare side effects.
The technique is one of the better options for patients with localised prostate cancer, according to the centre's research team.
At Da Nang Oncology Hospital, doctors have conducted research on dendritic cells immunotherapy against cancer.
Immunotherapy has emerged as a promising treatment for cancer, and combined with immunomodulatory drugs or immune check-point blockade, it could become a cure for certain kinds of cancer.
In addition, many oncology hospitals and centres throughout the country have also adopted advances in laparoscopic and robotic surgeries and others.
At the Nghe An Province Oncology Hospital in central Vietnam, doctors have performed laparoscopic surgery for early-stage endometrial cancer. The procedure is considered to be safe and effective.
Bone marrow transplants have also been performed on more and more blood cancer patients.
Dung said that advanced treatment had reduced cancer treatment's side effects and improved the quality of patients' lives and helped their organs retain their biological functions.
More people in the country are now aware of the importance of cancer screening and prevention, he said. In the past, 60-70 per cent of patients with breast and cervical cancers visited hospitals in the late stage of their disease, but this has changed in recent years. — VNS

Doctors at the HCM City Oncology Hospital have been using 3D printing to create titanium-aluminum frames for bone grafts that can be used to reconstruct jaws for patients with head and neck cancers with malignant tumours in the lower jaw.

Over 20 years ago, a Japanese woman visited the central city of Hue and fell in love with the place. She has returned many times to support children fighting cancer.