Local weather experts have forecast that HCMC will experience its peak summer heat from March onward, with temperatures expected to soar to 38 degrees Celsius, alongside worsening air pollution.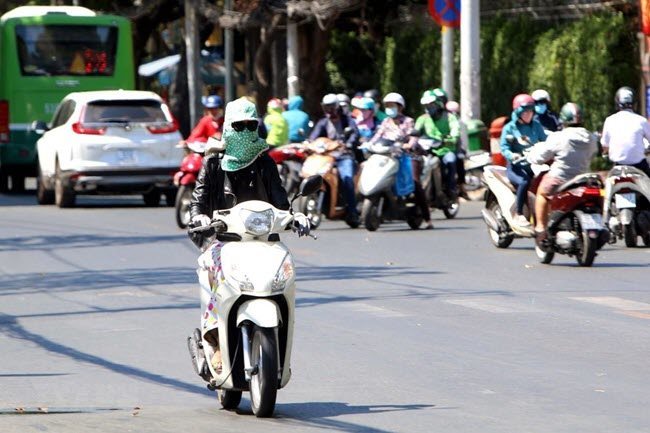 A motorcyclist wears sun protection clothing and glasses to avoid the hot weather. HCMC is forecast to experience its peak summer heat from March onward - PHOTO: VNA
According to weather expert Le Thi Xuan Lan, the peak hot-dry season will severely affect the southern city, especially after March 21 (the spring equinox) until mid-April, before changing into the hot-wet season.
In particular, the weather in the southeastern provinces such as Dong Nai and Binh Phuoc could be baking hot as temperatures may rise to 40 degrees Celsius.
Ultraviolet rays in March usually reach highly dangerous levels, especially between 10 a.m. and 3 p.m. The extremely dry air will make air pollution even worse.
Local residents should protect themselves against the effects of ultraviolet light and poor air quality by wearing face masks and anti-UV coats if they need to go outside, she advised.
Many city dwellers are reportedly feeling uncomfortable these days due to daily temperature swings. The temperature fluctuates between 22 and 24 degrees Celsius with a little fog in the early morning, making people wear extra layers of clothing when outdoors. By noon, however, temperatures soar to 36 degrees Celsius.
As a result of the large temperature disparity, many people have suffered a relapse in breathing and respiratory illnesses. SGT

Forests in the southern province of An Giang are at high risk of fires due to the dry season and prolonged hot weather, local forest rangers have warned.

The northern region will experience cold and rainy weather in the next 10 days.