Huong Canh ceramic village in Binh Xuyen District, Vinh Phuc Province has been famed for its products for more than 300 years.
Aritisant Nguyen Hong Quang works on a ceramic jar. 
Craftsmen at the village make various ceramic products like pots, jars and food containers of various sizes.
Legends have it that more than 300 years ago, after a war, mandarin Trinh Xuan Bien of the Le – Trinh reign visited the site and realised how poor local people were.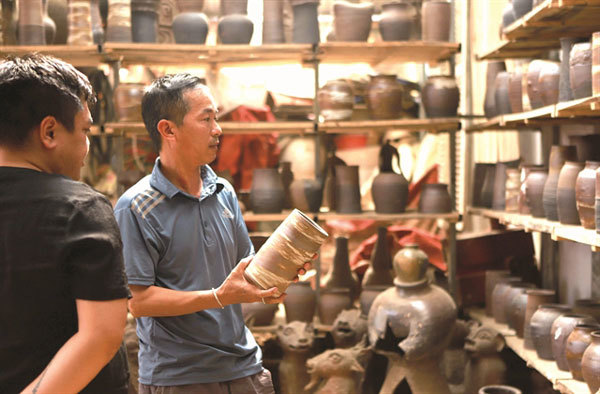 Customers choose products to buy at a local workshop.

He learned the local soil was suitable to making ceramics and he then taught locals how to farm and produce ceramic wares.
Though the ceramic handicraft trade in Vietnam was born later in other villages, people like the simple products from Huong Canh due to the special local green clay that doesn't need a glaze but is still shiny and beautiful.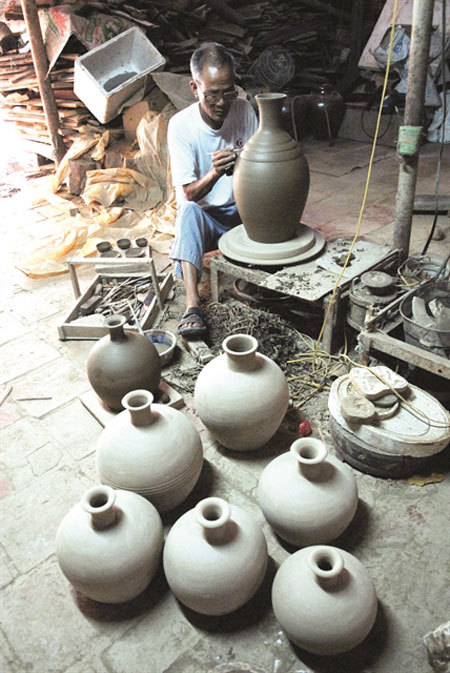 Only four families in the village still keep the handicraft.

Teapots made in Huong Canh can't keep water hot for a long time, but they do offer a sweeter taste thanks to the material.
Wine stored in Huong Canh jars tastes even stronger when stored for longer.
A busy workshop in the village.

Seeds stored in Huong Canh ceramic containers stay dry and almost never get mouldy.
Ceramic wares here are made from green clay, which is very soft. After being baked, the products are quite hard and make a chiming sound after being tapped by a hard object.
The products are finished with natural colours after being baked. Workers here never put glaze or enamel on the ceramic wares.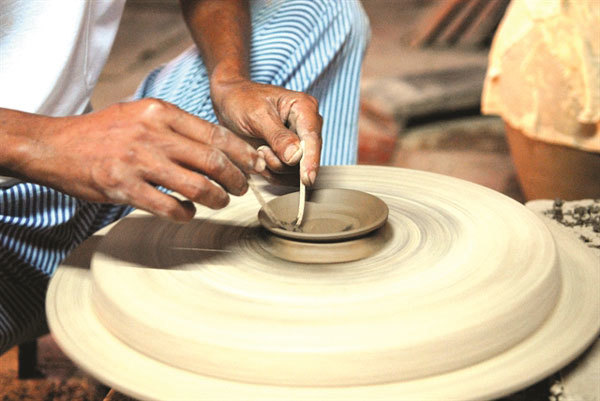 Ceramic wares in the village never get enameled. — VNA/VNS Photo Danh Lam

Nguyen Van Cu, an elder in the village, said the handicraft reached its peak in 1960s-70s when all the products were sold out.
Over time, more types of ceramic have entered the market so local production has sharply declined.
There are now only four families maintaining ceramic workshops while many others have switched to making tiles and bricks.
Roof tiles from the village are famed for their bright red colour and durability.
Visiting the village, one may be astonished as most of the fence walls in the village are made of pieces of tiles and ceramic wares which have been deemed substandard for sales and are taken for family use. — VNS

Vinh Phuc province retains its 300-year-old pottery craft village of Huong Canh. The trade's development is largely attributed to Nguyen Hong Quang, a local craftsman.

Over the past five centuries, locals in the ancient pottery village of Thanh Ha have kept their traditional method of making pottery - hand made and wheel thrown.