Hoang A Chinh, director of Ha Giang Province Department of Construction said on October 4 that they would investigate the illegal project on Ma Pi Leng Mountain Pass.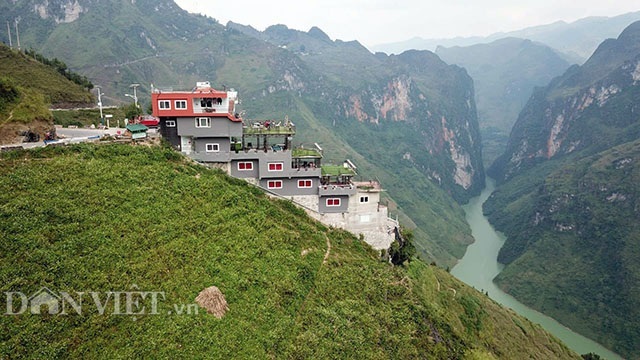 Illegal building on Ma Pi Leng Pass
The building was reported on by the media on October 3. The seven-storey building, Ma Pi Leng Paranoma, was built on the slope of Ma Pi Leng Pass and looks down to the river below in Meo Vac District. It is a hotel with a restaurant and cafe bar.
The hotel doesn't have any building permit and built on agricultural land. Even though it was completed in 2018 and went into operation this year, the local authorities said they weren't aware of the construction. Hoang A Chinh said they were still unsure whether the owner had a building permit.
Chinh went on to say that they were reviewing the papers and procedures as well as impacts on the environment and will propose suitable solutions to the problems.
"We have set up an investigation team to verify the information," he said. "Reporters can contact Ha Giang Province authorities for more information."
Ma Pi Leng has been recognised as a National Scenic Attraction in 2009 by the Ministry of Culture, Sports and Tourism.
It is at the altitude of 1,500 metres and divided by Nho Que River. It is also one of Vietnam's top four mountain pass alongside with O Quy Ho, Khau Pha and Pha Din. Dan Viet/Dtinews