Indonesia's Ministry of Forestry and Environment on September 15 closed more than 30 plantation companies in Kalimantan and Sumatra as part of efforts to minimise wildfires.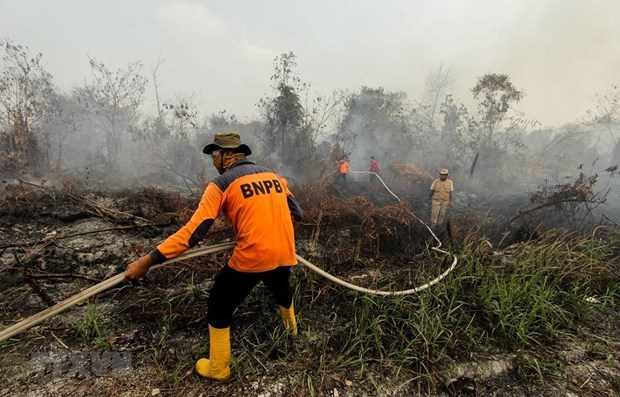 Fire rescue force operating in Kampar, Riau province, Indonesia on September 14
According to YadizNurhuda, an official from the ministry, most of the companies are in West Kalimantan, with the rest in central Kalimantan, Riau and Jambi.
He said forest fires have affected 50ha in the area, and occurred two times in August and one in September.
Meanwhile, schools in two cities in the Indonesian part of Borneo Island will be closed for a week after smoke from forest fires caused air quality to hit "dangerous" levels.
According to the ministry, he air pollution index in Palangka Raya, the capital of Borneo's Central Kalimantan province, hit 500, or "dangerous," on September 15. Any reading above 100 is considered "unhealthy."
Winaryo said other schools in Central Kalimantan will start half an hour later, at 7.30 a.m. local time. Schools have also been advised to cut class duration to 30-minute periods.
Meanwhile, schools in West Kalimantan, which were closed due to deteriorating air conditions from September 12-14, will reopen on September 16.
Indonesian President JokoWidodo has ordered heads of the armed forces, public security force as well as other agencies to work together to fight forest fires.
Forest fires often occur in Indonesia as growers use fire to clear lands to make room for new plantations. But the fires often rage out of control, especially during the dry season.
Indonesia has deployed about 10,000 soldiers, police and personnel from disaster management agencies and used millions of tonnes of water to douse the flame.
The haze has spread to Malaysia, Thailand and Singapore.
On September 15, a Lion Air flight failed to land in North Kalimantan Province's Juwata International Airport due to poor vision. The pilot decided to divert his airplane's landing toSepinggan International Airport in Balikpapan, East Kalimantan.
Haze from forest fire has led to the delay of many flights from Palangka Raya to Jakarta, Surabaya, Yogyakarta and Solo.
Based on monitoring data of the Meteorology, Climatology and Geophysics Agency (BMKG), 1,231 hotspots were detected on Sumatra Island, 1,865 on Indonesia's Kalimantan Island, 412 on the Malaysian Peninsula, and 216 in Serawak and Sabah, Malaysia./. VNA