Earlier this year, a 57-year-old man from Tay Ninh Province was desperate to kick his smoking habit after he suffered a stroke. 
For treatment, he chose the HCM City Traditional Medicine Institute where doctors recommended that he receive auricular acupuncture to stop his cravings for cigarettes.
Auricular acupuncture treats smoking addiction effectively
Traditional Vietnamese acupuncture shines in Russia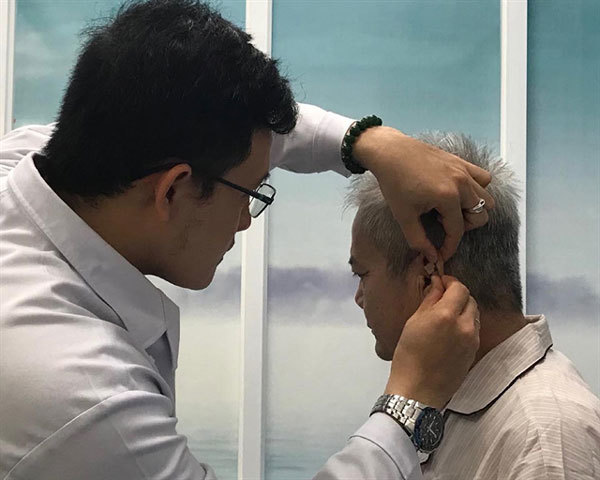 A doctor from the HCM City Traditional Medicine Institute uses auricular acupuncture on a patient to treat smoking addiction.

The treatment consisted of four one-millimetre and 1.5- millimetre needles inserted into four acupuncture points on the external ear surface for a period of three to four days.
"After three treatments on the same points, my cravings stopped even when I was in front of smokers," the man, who declined to reveal his name, said.
He continued treatment to ensure that he would no longer smoke.
Another patient, a 23-year-old man from Tan Binh District, who did not want to reveal his name, received the same acupuncture treatment, which stopped his cravings.
"I smoked for two years. Whenever I felt sleepy, I would smoke to stay awake. And at work, many people around me did not like the smoking smell. So I was determined to give it up," he said.

Dr Tran Minh Quang, deputy head of the institute's general planning division, said that acupuncture needles stimulate the central nervous system which helps to diminish cravings.
The inserted needles are kept in one ear for three or four days after which the patient returns to the hospital where doctors remove the needles and then perform the same procedure on the other ear.
"Whenever addicts feel cravings, they are told to press acupuncture points on the external ear surface," Quang said.
At the institute, patients are told to meet doctors to receive counseling to ensure that they follow the procedures.
This year, the institute conducted research from April to June on the effectiveness of using auricular acupuncture on 35 smokers. Of the group, nearly 60-65 per cent of them were able to give up smoking.
In 2016, Nguyen Thi Tan, dean of the faculty of traditional medicine at Hue University of Medicine and Pharmacy, conducted research on 300 smokers with Kyung Hee University in South Korea and Quang Nam Province's Department of Health on auricular acupuncture.
The result showed that 66 per cent quit smoking after five sessions of auricular acupuncture. The research was sponsored by the South Korean Ministry of Health and Welfare.
Last month, at a conference on treatment of smoking addiction with a combination of traditional and modern medicine, Truong Thi Ngoc Lan, the institute's deputy head, said that auricular acupuncture helped to reduce craving rapidly.
The therapy should be used with other kinds of traditional treatments because smoking can lead to other health disorders.
"Giving up smoking is not difficult, but how to prevent re-addiction is very important," Lan said.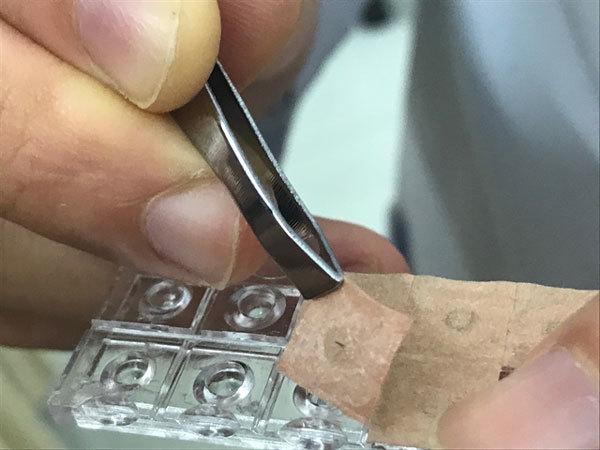 Needles are inserted into four acupuncture points on a patient's ear to treat a smoking addition. — VNS Photo Gia Loc

Smoking addiction is a serious public health issue in Vietnam, and the demand for treatment is high.
At least 70 per cent of smokers want to give up smoking and two-thirds of people who resumed smoking again wanted to treat it, according to the institute.
Dr Tran Thai Ha, head of general planning division at the National Hospital of Traditional Medicine, said that counselling for treatment of smoking addiction with and without medicines doubles the success rate for smoking cessation.
According to the US Center for Disease Control and Prevention, 20 minutes after quitting, the heart rate drops to normal. Twelve hours after quitting, the carbon monoxide level in the blood drops to normal. And one year after quitting, the added risk of coronary heart disease is half that of a smoker's.
Quang said that the cost of auricular acupuncture is low and therefore accessible to many people. The treatment causes no side effects and can be used repeatedly.
At a previous conference, the institute provided training in the treatment to doctors in the city and other provinces in southern and Central Highlands regions.
According to a Global Adult Tobacco Survey conducted in 2015 by the Ministry of Health in collaboration with the Hanoi Medical University and General Statistics Office of Vietnam ), more than 45 per cent of men, 1.1 per cent of women, and 22.5 per cent overall (15.6 million adults) smoked tobacco in Vietnam.
The survey found that 29 per cent of those who had ever smoked (6.4 million adults) had quit smoking, while 5.2 per cent of smokers (0.8 million adults) said they planned to quit within the next month. VNS
Gia Loc

More than 100,000 people die each year from cancer in Vietnam, and medical experts believe the fatality rate will rise because more and more young people are starting to smoke.

Nguyen Van Dang, 61, of HCM City is getting treatment for nicotine dependence after dozens of years of smoking that led to serious health complications.