Cau Giay Police wrapped up the investigation on December 6 into the death of a grade-one student found dead after being forgotten in a student shuttle bus at Gateway International School in Hanoi City for nine hours.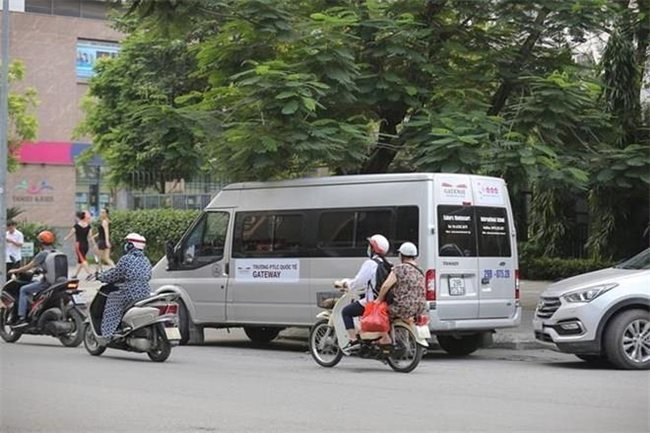 A student shuttle owned by Gateway International School travels on a street. Cau Giay Police wrapped up the investigation on December 6 into the death of a Gateway grade-one student – PHOTO: VNA
The police have recommended prosecuting three people involved in the case.
The police have requested that the Cau Giay People's Procuracy prosecute the 55-year-old bus monitor, Nguyen Bich Quy, and shuttle driver Doan Quy Phien, 53, for involuntary manslaughter, in line with Article 128 of Criminal Code, along with the 29-year-old homeroom teacher, Nguyen Thi Thuy, for gross negligence.
The results of the investigation showed that at 6 a.m. on August 6 driver Phien drove a 16-seat vehicle to pick up Quy and 13 students attending Gateway, including Le Hoang Long. The six-year-old boy was wearing a red T-shirt emblazoned with the letters "Gateway" when he left home for school. He reportedly sat in the fourth row of the bus.
After arriving at the school at 89 Khuc Thua Du Street, Dich Vong Ward in Hanoi's Cau Giay District, driver Phien did not leave his seat, while Quy opened the doors and asked students to leave the bus. She was carrying two children when she left the bus, thereby failing to check the entire shuttle before closing its doors, leaving Long dozing in the vehicle. Phien also did not check the shuttle and then drove the vehicle to a parking lot.
At 7.50 a.m. that day, homeroom teacher Thuy read the names of her students to check their presence and discovered Long was absent, but failed to query Long's absence during the day and did not update the information in the school's system.
In the afternoon, the boy was found unconscious on the floor of the bus behind the driver's seat. Gateway staff later took him to the school medical room for first aid, and then called an ambulance to transport him to a nearby hospital, where he was pronounced dead on arrival.
The cause of death was identified as heat stroke and respiratory failure, VietnamPlus news site reported, citing the results of the investigation.
During the investigation, the Cau Giay police had the Criminal Sciences Institute, under the Ministry of Public Security, evaluate the images collected at Gateway School. The result indicated the images and videos gathered at the school showed no signs of being cut or altered. SGT