The day John Hennigan saw a picture of a child with a cleft palate abandoned in an orphanage in northern Hai Duong Province, he knew that his life would change forever.
"His incomplete smile shattered my heart," the 37-year-old English teacher recalled.
"I immediately knew that I wanted to adopt him."
John, who has been living in Vietnam for five years, had always wanted to adopt a child. And the first time he met little Pham Dang Son (the name given to the baby boy by nannies at the orphanage) reassured the Irish man he had made the right decision.
"As soon as I walked into the room to him he had a big smile on his face," John said.
"So I scrapped the rule book and went over to him, played with him and picked him up and he was just very happy and the fact that he was so happy really comforted me."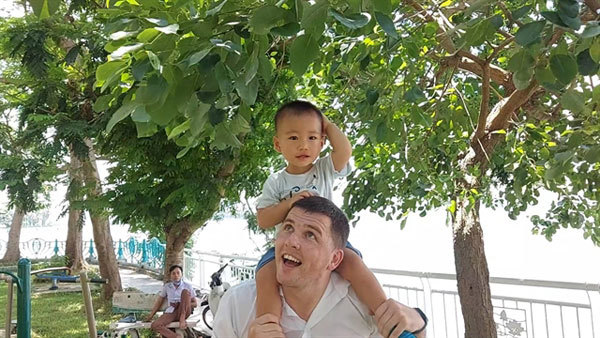 John Hennigan and his son, Liam. VNS Photo Paul Kennedy
But as a single man, the journey to adopt little Son was a real challenge for John.
It took him eighth months working with authorities in both Vietnam and Ireland to complete all the necessary procedures with a lot of paperwork being sent back and forth.
"It is very difficult to adopt a child, especially as a single parent. There were many times I thought it would not be possible," he said.
"The biggest hurdle was trying to prove that I was a worthy candidate to adopt and I had to obtain a no objection letter from Ireland, a letter that declared I was suitable to adopt a child and they had no objection to me continuing with the process."
There was also another difficulty.
As Son was born with a cleft palate, he needed a number of operations to repair his damaged face.
John contacted the charity Operation Smile and received a great deal of support.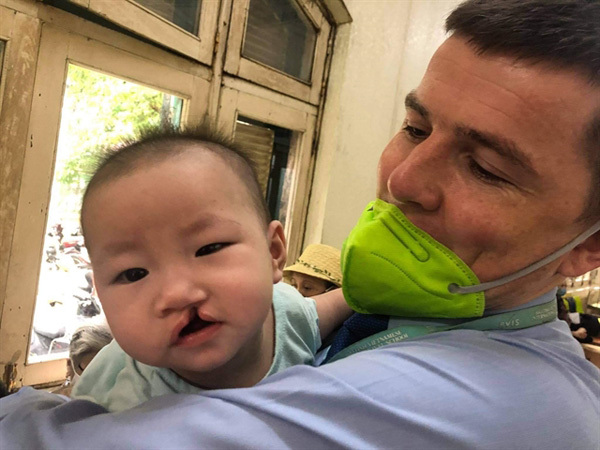 John and Liam before the Operation Smile surgeries. Photo courtesy of John Hennigan
On September 29, 2020, the baby boy underwent the first surgery to fix his facial deformities. Another surgery took place in March this year which was even more painful and he took more time to recover.
John was there in the operation theatre to support the child through these tough times.
Every day after work, John went to the hospital to look after him, cuddle him and nurse him to sleep.
Despite what he called a "frightening" experience witnessing the surgeries, John was happy to see his little boy doing "a very good job".
This was why John decided to give him a new name, "Liam Son Henningan", with Liam in Irish meaning "warrior" and being pronounced in Vietnamese as "Liêm", which means "honesty". 
A new chapter of life
A new chapter of life finally began for John and little Liam on January 28 this year when they were officially recognised by law as father and son.
To prepare for the new role, John asked for advice from relatives and friends who have children and researched online to learn all necessary skills and knowledge.
But raising a child is never an easy job for anyone, let alone for a single dad.
John said: "The first day he went home was really hard. He cried all the journey home.
"He did not really eat much or sleep much. Everything I had learned went out the window and I panicked."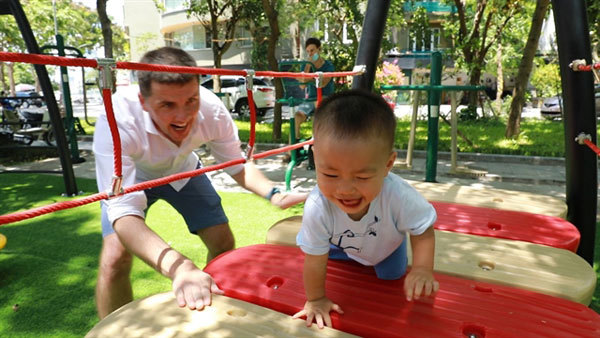 John and Liam at a playground near their home. VNS Photo Thu Ha
Fortunately, he was given paternity leave by his school and dedicated the whole first three weeks to his new son. He turned his apartment into what now looks like a nursery filled with diapers, milk, books and toys for the 13-month old.
"It was just the two of us together," he said. 
A day in the life of the new father now starts early at around 6am when Liam wakes up and only ends when he is put to bed after some bedtime stories.
Liam is not a difficult child but, many times, things still do not turn out the way the inexperienced father has expected, John admitted, bursting into laugh.
"When we were on our vacation in Nha Trang last week, Liam woke up two to three times a night. Maybe he was not used to sleeping in a strange place. It was really tiring," John said.
Despite the mounting challenges, the journey has been rewarding.
Six months into the new life, the dad and lad have developed a "really strong" bond together.
John said he enjoys every little thing he does with his little angel, whether it is reading him a bedtime story, washing his hands or even watching him wake up after a nap in a good mood.
John has already mapped out a clear plan for Liam's future, with an emphasis on nurturing his Vietnamese heritage.
"It's very important to me that he grows up bilingually, both Vietnamese and English. And I really want him to get very familiar with Vietnamese culture and traditions," he said.
"I suppose that sometime in the future, probably the next five years plus, I'd like to bring him back to Ireland and maybe expose him to Irish culture, so he gets the best of both worlds really."
A long journey is still ahead for the father and son, but one thing is there for certain: it will be a journey full of love.
Source: Vietnam News

There is a special home in Bao Loc City in the Central Highlands province of Lam Dong that is always filled with the laughter of children. This home is Tín Thác Foster House.

Care for orphanages should come from love, devotion and enthusiasm, and that's exactly what 60-year-old Bui Cong Hiep from HCM City has in abundance.