Colonel Nguyen Hanh Phuc, deputy director-general of the Viet Nam National Mine Action Centre (VNMAC), speaks to Tuổi Trẻ (Youth) newspapers on Vietnam's efforts to deactivate bombs and mines left over from the wars.
South Korea gives VN bomb detectors
Billions of dollars needed to clear all bombs, mines left from wars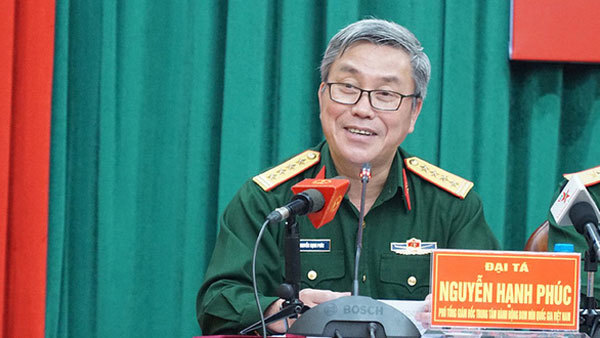 Nguyen Hanh Phuc. — Photo tuoitre.vn
What consequences have bombs and mines left over from wars?
It is estimated that bombs and explosives are left from the wartime in all 63 provinces and cities nationwide. In some districts in the central provinces of Quang Binh and Quang Tri, the contaminated areas have been reported to account for 80 per cent of the area.
Since peace returned to Vietnam in 1975, more than 40,000 people have been killed while some 60,000 others have been maimed by explosions from remnant explosives, particularly bombs and mines.
Though Vietnam has done its best to clear the contaminated land from the remaining bombs and mines, some 6.1 million hectares are still suspected of being contaminated with bombs and mines.
What has Vietnam been focusing on to tackle this problem?
There are many activities we have been doing, including educating and supporting victims from explosions of bombs or mines.
On the part of VNMAC, we have focused our efforts on helping victims of explosions and launching communication campaigns to help the public understand the danger of bombs and mines, including activities to support victims during and after the war.
In April 2018, VNMAC had completed a map on land contaminated with bombs and mines in all Vietnam. In the map, VNMAC also indicated areas which are seriously contaminated.
What are the main challenges Vietnam has faced in the work?
In Vietnam, only army engineers or sappers are the forces involved in mine-clearing activities. A big challenge that the Vietnamese sappers are facing is that they don't have up to date equipment to perform their jobs. Meanwhile, bombs and mines in Vietnam are made by many countries and they are buried deep under the ground with different topography. This is a challenge for Vietnamese sappers. The Vietnamese People Army has launched many campaigns to clear the land of bombs and mines. Yet, many bombs and mines are still buried under the ground – a headache for the Vietnamese Government and the general public. Under Vietnamese law, all costs incurred during de-mining activities are paid for by the State budget.
In 2010 the Government approved the very first Viet Nam National Mine Action Plan for 2010-2025. How many hectares of land contaminated with bombs or mines have since been cleared?

In that programme, the Government set a target that in 15 years – from 2010- 2025, each year, at least from 30,000-50,000 ha should be de-contaminated.
If that goal was realised, it would take Vietnam 20 years to clean 1 million ha which have been contaminated with bombs or mines. But, in Vietnam, we have more than 6.1 million ha which are contaminated or suspected of contamination with bombs and mines. So it would take the country more than a hundred years to do the job.
Over the past more than eight years, on an average each year, Vietnam was able to clear about 30,000 ha per year,
Of course, while performing our task, Vietnam has received financial support from friends far and near. For example, the Republic of Korea has granted Vietnam US$20 million to do the bombs/mines clearance and support victims in the two southern provinces of Binh Dinh and Quang Binh and to help Vietnam to develop its national data system on bombs and mines left over in war for national independence.
For Vietnam, the biggest challenge is financial. Since the launching of this national action plan, we have received a lot of support from friends far and near, ranging from financial support to human resources training and others.
With official development support from foreign countries and organisations, one of the tasks that the VNMAC will focus on in a near future is to decontaminate bombs and mines in the five provinces of Ha Giang, Lao Cai, Cao Bang, Quang Tri and Quang Nam.
VNS