Many people are risking their lives looking for gold in a river in the central highlands province of Kon Tum after recent floods and storm.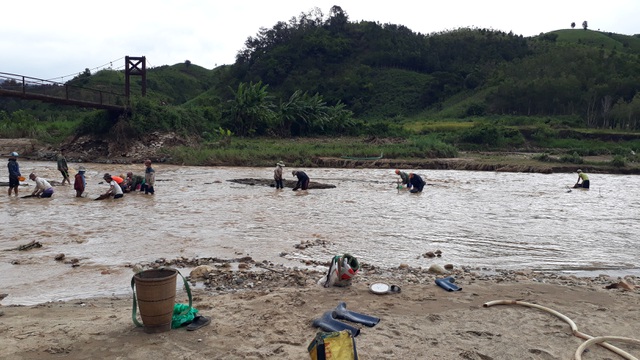 Searching for gold
After the recent storms, the current in Dak Broai River, Dak Pek Commune, Dak Glei District, got stronger, sweeping rocks, dirt and even mineral gold from the mountains downstream.

Local farmers temporarily stopped working on the fields to rush to the river and search for gold. Hundreds of people of all ages went to the river. Even children helped their parents when they were not at school.

A local man in Dak Pek said, "I heard that there are gold under the river and people just flocked there so I went along too. Our group has six members and we sold the gold to the shops for some money. Some days we earned only VND50,000. When there was more gold, we earned hundreds of thousands of VND a day."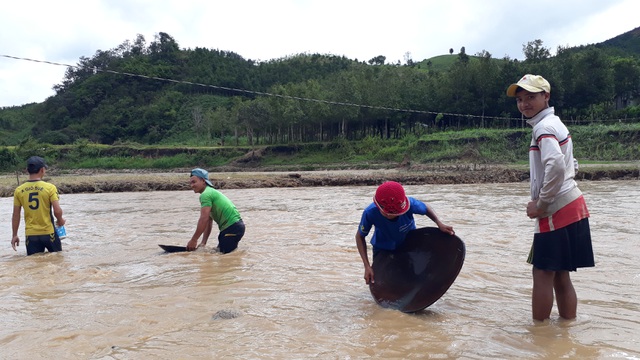 Gold swept to the downstream
According to the locals, they couldn't do much work on the fields because of the flood and storm anyway. They used to search for gold in the river in the past but were banned as they were harming the environment.

The gold-digging location is downstream from Dak Pru 1 Hydropower Plan which means their lives are in danger if there is a water discharge. Despite the risks, hundreds of people still flock to the river to try their luck.

Nguyen Khac Tu, vice chairman of Dak Pek Commune People's Committee, said, "The communal police has issued warnings and banned people from going into the river but it's no use. We're still trying to persuade them." Dtinews