Across Vietnam, there are 76 million small and scattered farming land lots. Their spread out and small nature slow the application of technology, stop companies from investing in agriculture and hinder 
 the establishment of concentrated production areas. Việt Nam News reporter Khoa Thu talks to Vu Trong Khai, former director of the Central Agricultural Cooperative Management School II, on how land policies should be changed to help agriculture thrive.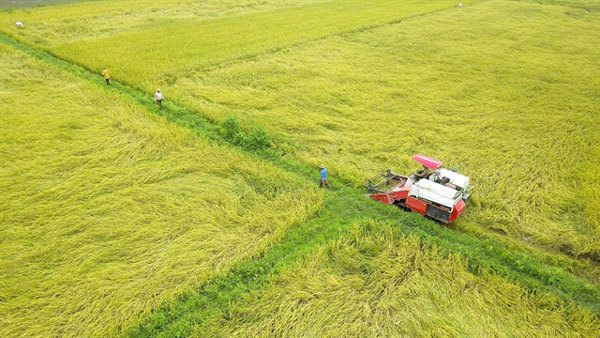 Farmers harvesting rice in Hoa Lu District, northern Ninh Binh Province. Land accumulation is expected to accelerate high-tech agriculture. — VNA/VNS Photo Minh Duc
Land accumulation was expected to improve Vietnam's agriculture in terms of size and productivity, but it has not had the desired impact due to inadequacies of policies involving agricultural land. How would you promote land accumulation?
Land accumulation is essential to develop high-tech and organic agriculture following good agricultural practices (GAP), Vietnam's GAP or global GAP.
To achieve the goal, we need to address three issues, including making agricultural land available for long-term rental, training a professional workforce for domestic agriculture and reforming land legislation.
First, farmers can only lease or sell their land once they earn better and more sustainable livelihoods. Most rural people working in industrial zones are in precarious conditions. At age 35 to 40, they are likely to lose their jobs and be forced to come back to the countryside. Therefore, land lots are still considered as savings.
Secondly, without professionally trained farmers, there will be no demand for land accumulation to create large-scale farms which apply the latest innovations.
From north to south, there are several universities of agriculture yet no school trains farmers. The most competitive majors are plant protection and veterinary.
It is important to have the standardisation of terms and theoretical frameworks to evaluate policies and devise development plans based on the market-driven economy.
In the context of global integration, Vietnam might lose out if we do not have skilled farmers and enterprises who lead supply chains, set up standards based on the market's demands and guide farmers via agricultural extension services.
The Government should offer favourable policies for enterprises which invest in agriculture. It is not necessary to allocate the State budget but to reduce taxes for companies which use high technologies to monitor product quality from farm to table to encourage their participation.
The National Assembly has allowed switching some areas of rice farming land to grow other crops. The policy, however, has not attracted much attention from farmers. Why is this?
Rice farming is hereditary. Take the rice bowl Mekong Delta for example, where farmers cannot switch from rice to fish farming overnight. They need to be trained and sign contracts with enterprises.
At present, farmers have to apply for a permit from provincial authorities' before switching 10ha or more of rice farming land to other crops.
I think the Government should allow farmers to decide what they grow on their agricultural land lots and have authority over the switch from agricultural land to non-agricultural land.
Our current major concern is food security while the rice crop takes only 100 days so we only need reserves for three months in case of crop failure.
We would be better served to think of nutrition security instead of food security as people need to eat less rice and consume more fruits and other foods to stay healthy. There is also a need to change our mindset about rice farming and respect the values of the market economy.
The number of enterprises in agriculture is still limited. Are land policies the biggest challenge restraining companies from joining the industry?
It is weird that the Government sets a quota of agricultural land area owned by a household but not an enterprise.
Ten years ago, a farmer named Sau Duc, in Thoai Son District, Mekong Delta province of An Giang had to ask his relatives to buy 70ha of agricultural land on behalf of him, exposing himself to several legal threats.
I suggested he establish a limited liability company. Now, he owns 150ha.
Enterprises lack capacity while investing in agriculture is high-risk and turnover is slow.
TH True Milk is a good example of high-tech agriculture as technology makes it easy to manage thousands of milch cows and the farm's operations.

With the country's agricultural sector pursuing greater sustainable development, mergers and acquisitions are helping the sector create positive changes thanks in part to the support of high technology.

Private sector investment has recently surged in the field of agriculture, contributing to building sustainability in the sector across Vietnam.
VNS