Authorities in Hanoi's Thanh Xuan District have launched a probe into the case of a large shipment of face masks being sent illegally to China for consumption while the coronavirus outbreak rages on.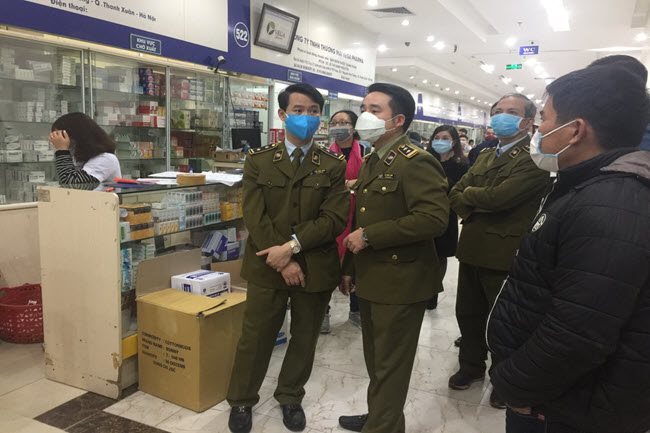 A market surveillance team inspects a local pharmacy in Thanh Xuan District, Hanoi – PHOTO: VIETNAM DIRECTORATE OF MARKET SURVEILLANCE
An inspection team, including local police and market surveillance employees, on February 4 inspected Queen Commodity Service Trading Co., Ltd, based in the district.
The team discovered and seized 47 large cartons, each containing 2,500 four-layer medical face masks. None of the boxes had product origin labels or invoices and other documentation, a police officer told Thanh Nien newspaper the same day.
A representative of Queen Commodity Company noted that the mask shipment was set to be transported to a border area in the northern province of Lao Cai.
Police are questioning two other individuals for their involvement with the shipment. They initially stated that the masks were collected from southern provinces before being transported to Hanoi and Lao Cai for export to China for sale.
The force is still working on the case to determine the goods' origins and address any violations, in line with prevailing regulations.
In related news, Vietnam Directorate of Market Surveillance has launched an inspection into a case involving Hapulico Medicine Market in the district, where multiple chemist shops have reportedly hung notice boards reading, "We do not sell face masks or hand sanitizers. Please do not ask," amid the coronavirus panic.
Representatives of the Directorate and the National Steering Committee against Smuggling, Trade Fraud and Counterfeit Goods on February 4 visited the market for investigation, reported Nguoi Lao Dong newspaper.
They found that the pharmacies had removed the notice boards and resumed normal operations. However, these stores still claimed their face masks were out of stock when queried by customers.
Enforcement officers are also looking into allegations that some social media users have called on the owners of pharmacies at the market to stop importing and selling face masks. Cases like this will be handled after all the evidence has been collected.
Face masks are excluded from a list of products under the nation's price stabilization program and their prices are not quoted by the State, said Tran Huu Linh, head of the Vietnam Directorate of Market Surveillance.
However, intentionally withholding inventory or speculating on these goods will attract fines, Linh added.
As of February 4, market surveillance agencies investigated 338 pharmacies and medical equipment vendors nationwide. Some 95 stores were fined in excess of VND197 million.
Between January 31 and February 4, over 2,000 cases had been uncovered, with more than 450,000 face masks being seized, according to a report from the Directorate. SGT

The Ministry of Industry and Trade has directed Vietnamese commercial affair offices abroad to connect with businesses to search for raw materials for face masks production in Vietnam.

In Vietnam, demand for medical face masks and hand sanitizers has increased sharply on fears of potential outbreak of the new coronavirus (nCoV).