Professor Nguyen Tai Thu, a leading Vietnamese acupuncturist, used to tell his students: "To be a physician, first of all, you must have a heart that can easily be touched by the pain of others. 
But to be a good physician, you need an intelligent mind."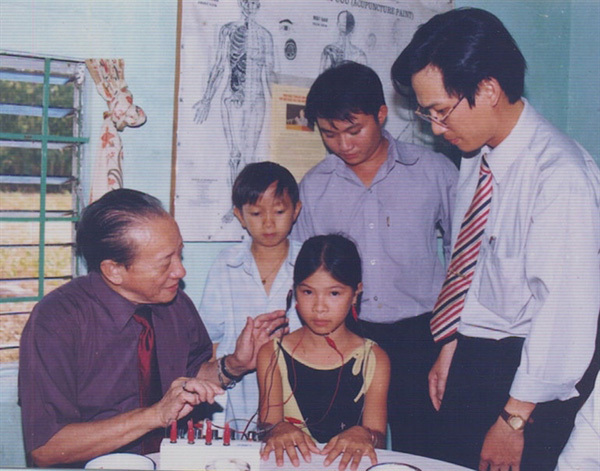 Professor Nguyen Tai Thu performs acupuncture on a child at a shelter for disabled children in south-central Phu Yen Province. — Photo: Phu Yen newspaper
Professor Thu, vice president of the World Federation of Acupuncture Societies and president of Vietnamese Acupuncture Association, was the king of acupuncture in Vietnam.
He passed away on Sunday at the age of 90.
Thu developed acupuncture into a scientific and academic technique applied locally and around the world. His contributions to Vietnamese acupuncture will be forever forgotten and are being passed on by the next generations.
Professor Thu was born in 1931 in Hanoi and soon learned acupuncture skills thanks to his family's tradition.
In 1945-46, witnessing Hanoi ravaged by bombs and seeing many people injured or dead in the war, he hoped to become a doctor to cure people.
After graduating from the Hanoi Medical University and finishing a six-year traditional medicine course in China, Thu returned to Vietnam and started to conduct research on acupuncture in 1967.
He worked with needles of different lengths for healing and used the needles on his own body to experiment.
In 1968, the first acupuncture association in Vietnam was founded based on Thu's proposal. He and his colleagues expanded the association, attracting thousands of members. The Vietnam Acupuncture Association now has 27,300 members.
The most well-known technique developed by Thu is acupuncture therapy to treat drug addicts with a high success rate.
The therapy took him 30 years to study, has been licensed by the health ministry and applied in 50 other countries.
The drug addicts receive acupuncture before the peak of withdrawal pain. An acupuncture course lasts seven to 15 days depending on each case.
To conduct experiments, Professor Thu visited remote areas in Vietnam to meet drug addicts instead of waiting for them to come and find him.
Thu was also the inventor of the electrical anaesthesia method which inserts 10cm to 70cm long needles to an acupuncture point to increase the pain-countering level, helping the patient undergo the operation in a state of consciousness.
The therapy has been applied in 60 types of surgeries such as tonsillectomy, deviation of molars, eye surgery, appendix surgery and kidney stone operations.
The Vietnam Acupuncture Association highly recommends the electrical anaesthesia acupuncture, especially in surgical acupuncture, pain treatment and paralysis treatment.
In his report, Professor Thu said the method can be applied to treat half-body paralysis, cervical vertebrae, sciatica, inflammatory pain around the shoulder joint and children's polio.
Professor Thu also wrote a lot of books on neo-acupuncture, hydro-acupuncture, atrial acupuncture. The books are a reference for thousands of doctors.
Professor Thu was an honorary professor-doctor of 16 foreign universities.
Being fluent in French, Chinese and English, he taught and transferred knowledge to students and experts in many countries in Asia, Europe, Latin America as well as established research centres and transferred technology to Russia, France, Mexico and Italy.
Associate Professor Tran Van Thanh, director of the National Acupuncture Hospital, said Professor Thu taught in 38 countries around the world. In Vietnam, there are no provinces or cities he didn't teach in.
Talking about Thu's work, Associate Professor Thanh, who was also Thu's student, said: "It is difficult for anyone to perform better than him." 
Working for the poor
Thu spent most of his time studying acupuncture therapies and helping poor people.
He mobilised financial resources to offer free treatment for poor children with disabilities or hereditary complications.
He said: "My biggest concern is that there are many patients who cannot be cured, not due to the technology but because the physician is not devoted to the patient.
"The physician must love the patient and help the patient, especially the poor."
Poor patients were treated for free by the kind-hearted professor.
Some articles about him several years ago reported that in his late 80s, he offered free treatment for 70 patients from 8am to 1pm every day at the National Acupuncture Hospital where he worked as a director. He only had a short break at noon by sipping a cup of tea and then continued to work.
After finishing his shift, he spent time visiting patients being treated at the hospital.
Professor Thu was granted the titles of People's Physician and Labour Hero for his contributions to Vietnamese and global acupuncture and traditional medicine. Devoting his life to acupuncture, Thu said his greatest happiness was to see patients recover after being treated and to promote Vietnam's invaluable traditional medicine to the world.
His memorial service will be held at the National Funeral Hall at No 5 Tran Thanh Tong Street in Hanoi on February 22.  VNS

Since he signed up with the border guard force in 1995, army medic Major Ninh Cong Khanh has provided free treatment to thousands of poor fishermen and their families in Hoa Hiep Bac Ward 

Earlier this year, a 57-year-old man from Tay Ninh Province was desperate to kick his smoking habit after he suffered a stroke.