The Central Steering Committee for Natural Disaster Prevention and Control has sent an urgent notice to coastal cities and provinces from Quang Ninh to Ca Mau concerning a tropical storm which is moving towards the East Sea.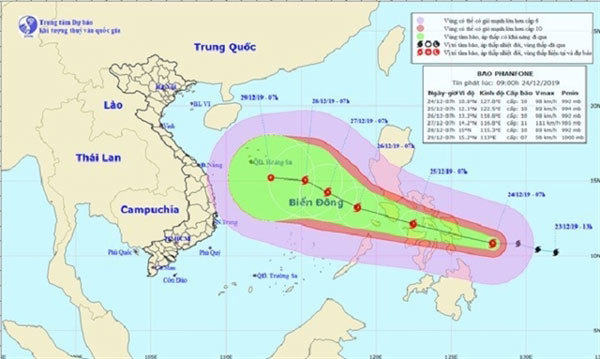 The direction of the tropical storm Phanfone. — VNA/VNS Photo

According to the National Centre for Hydro-Meteorological Forecasting (NCHMF), tropical storm Phanfone is expected to travel west-northwest at a speed of 15-20km over the next 48 hours.
As of 7am on Tuesday, the storm was 320km east-southeast of the Philippines' central areas with the strongest winds near the eye of the storm reaching between 90 and 100km per hour.
It is forecast that by 7am on Thursday, the centre of the storm will be 430km east-northeast of Song Tu Tay Island with sustained winds of up to 100km per hour.
In order to proactively cope with the tropical storm, the office of the Central Steering Committee asked localities and related agencies to closely watch weather forecasts and the developments of the tropical depression, while informing and guiding captains and owners of boats at sea on the location and direction of the storm so they can avoid entering the danger zone.
The Ministry of Foreign Affairs was asked to issue urgent diplomatic notes to neighbouring countries asking them to provide any endangered Vietnamese boats and their crews safe shelter if necessary.
Vietnam News Agency, Vietnam Television and the Voice of Vietnam and other media have been requested to provide the latest developments on the storm to authorities and the public so they could take necessary precautions when it hits.
The local steering committees were also requested to maintain contact to deal with any dangerous situations in a timely manner; get ready in terms of rescue forces and means to implement the work when required; and organise 24 hour-duty and regularly report information to the standing office of the Central Steering Committee for Disaster Prevention and the National Committee on Disaster Response, and Search and Rescue. — VNS