January 23 marks the one-year anniversary of the first COVID-19 case in Vietnam. On this day, a man visiting from China tested positive for coronavirus.
Since then all our lives have been turned upside down as the pandemic spread to all corners of the globe. But despite global upheaval, Vietnam has been praised for the way it has handled this deadly plague.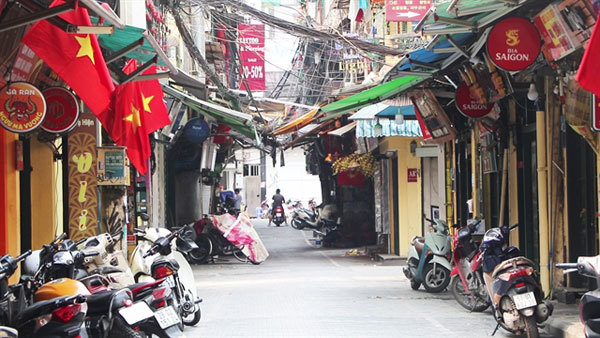 The otherwise busy Ta Hien Street in Hanoi became quiet in March last year, when a nationwide lockdown order was imposed. — VNS Photo
As of January 22, the country has seen a total of 1,548 cases with just 35 proving fatal, while 1,411 have recovered. The country has undergone 52 days without a case of COVID-19 community transmission.
VNS takes a look back at the key events of the past 12 months since that very first case was recorded, and the tremendous efforts made by the authorities, medical staff and security forces, as well as the entire nation, to contain COVID-19.
January 23, 2020: The first case of COVID-19 is reported after a 66-year-old Chinese man came from Wuhan to Vietnam to visit his son. He and his son were then treated at Cho Ray Hospital, HCM City.
February 13, 2020: Son Loi Commune, Binh Xuyen District in Vinh Phuc Province is locked down after six cases were discovered there.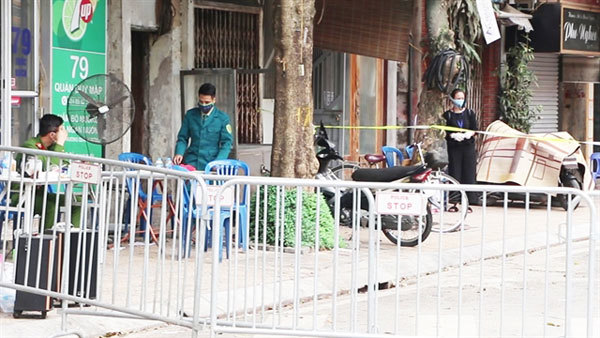 Truc Bach Street, where patient 17 lives, is quarantined. — VNS photo
March 6, 2020: Patient 17 tests positive for coronavirus after coming back from Europe, marking a second wave of COVID-19 cases.
March 18, 2020: Prime Minister Nguyen Xuan Phuc orders a halt to issuing new visas for foreigners to Vietnam and limited flights from pandemic zones.
March 25, 2020: Vietnam suspends all international flights to contain the spread of COVID-19.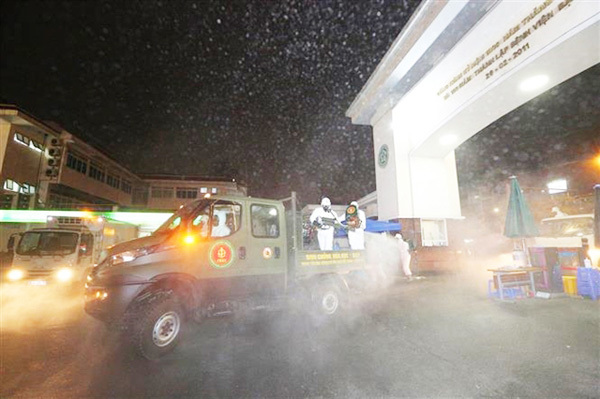 Soldiers of the Army Chemicals and Military Medicine Department spray disinfectant to sterilise the area around Bach Mai Hospital. — VNA/VNS Photo
March 28, 2020: Bach Mai hospital is locked down after many cases related to the hospital were reported. Bach Mai hospital becomes the virus epicentre of Hanoi.
April 1, 2020: A social distancing order is implemented nationwide.
April 12, 2020: Bach Mai Hospital reopens after 14 days of quarantine.
April 23, 2020: The social distancing order is lifted in most areas of the country except for some high-risk zones.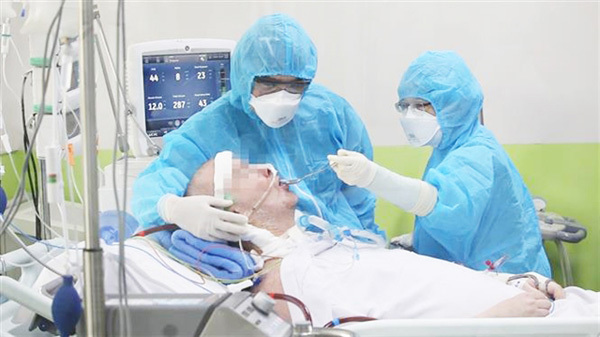 British pilot Stephen Cameron recovers after being in a coma. — Photo courtesy of Cho Ray Hospital
May 27, 2020: British pilot Stephen Cameron, Vietnam's sickest COVID-19 case, shows signs of recovery.
July 11, 2020: Pilot Stephen Cameron flies back to the UK.
July 25, 2020: The first COVID-19 case is reported in Da Nang City.           
July 28, 2020: All of Da Nang City is locked down.
August 4, 2020: Army disinfects Da Nang City's Son Tra District.
August 13, 2020: Domestic flights take stranded tourists back from Da Nang.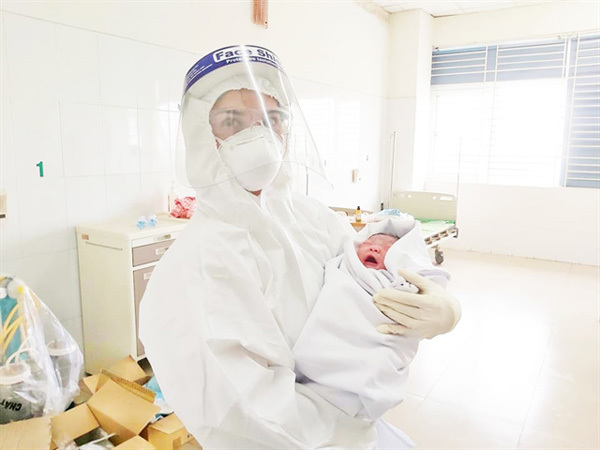 A nurse holds the infant born to a mother with COVID-19. — Photo courtesy of National Hospital for Tropical Diseases
September 10, 2020: A baby is born to a mother with COVID-19.
September 11, 2020: Da Nang loosens social distancing orders.
November 30, 2020: HCM City announces the first case of COVID-19 after 100 days.
December 10, 2020: Call for registration for human trials of a COVID-19 vaccine.
December 17, 2020: First dose of the vaccine is administered.
December 26, 2020: Vinh Long Province reports a man who entered Vietnam illegally tests positive for COVID-19.
January 2, 2021: New highly more transmissible variant of coronavirus first reported in HCM City after a woman is repatriated from the UK.
VNS

Prime Minister Nguyen Xuan Phuc has asked the health sector to continue using drastic measures to tackle COVID-19 this year, particularly ahead of the Tet (Lunar New Year) celebrations and other important events.
Vietnam has brought the COVID-19 outbreak under control since the virus was detected in late January 2020. Let's look at the fight against the disease in Vietnam during the past year.