One of the issues put into discussion at the eighth session of the 14th National Assembly was the abuse of students by their teachers.
On May 15, parents posted a video clip showing Trang, a teacher in Hai Phong City, slapping the heads and faces of students.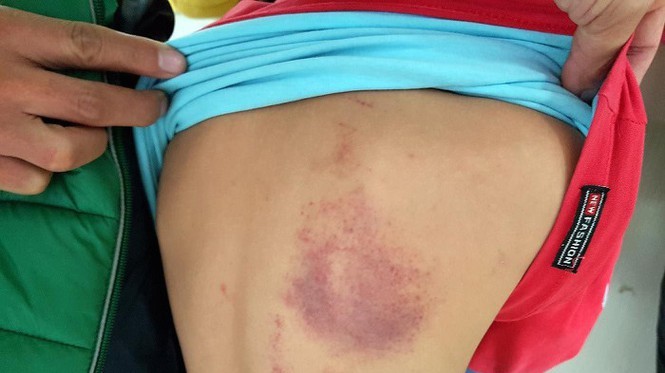 Also in mid-May, N.N.M.T, a sixth grader at My Phong Secondary School in Tien Giang School was punished by a teacher of English. Dinh Duyen Hong Yen. The student was forced to sit down and stand up 200 times. The student fell down after doing this 100 times.

Later, as the male student showed fatigue and difficulty in walking, he was brought to hospital for treatment.

One of the issues put into discussion at the eighth session of the 14th National Assembly was the abuse of students by their teachers.
Dat Viet reported that a teacher at Duu Lau Preschool in Phu Tho province stabbed children's hands with a needle to punish them.

Seventeen parents denounced a teacher at Trung Van Primary School in Hanoi for hitting students in the heads with aluminum rule, kicking students' stomachs and tearing students' textbooks.

In March 2019, a teacher at An Thang Primary School in Hai Phong City beat P, a second grader, with a ruler, causing bruises on her back, because P could not do the exercises.

Nguyen Dinh Cong, P's father, affirmed that this was not the first time his daughter had been hit by the teacher.

Also in 2019, many parents whose children were students in 4B Class at Trung Thanh Primary School in Thai Nguyen City sent a petition to the school's Board of Management, reporting that N.T.T, a teacher forced students to slap themselves 50 times in the face.

Hoang Ngoc Vinh, former director of the Department of Professional Education, expressing his concern over the increase in number of school abuse cases.

He said people with violent nature cannot serve in the education sector and education establishments must not recruit such people.

"You cannot say the teachers conducted such behavior because they were put under strict control," he said.

"The teacher's mission is to educate people. If teachers abuse children, children will also be violent to others," he said. "If you cannot restrain hot temper, you'd be better not to become a teacher.

Nguyen Le Ninh, a member of the Vietnam Fatherland Front's Committee, commented that Vietnamese teachers are under pressure as the wages they receive from teaching are not high enough to cover their needs.

He said in order to have a healthy education, it is necessary to pay teachers well.

"When the remuneration regime is unreasonable and teachers cannot live on their salaries, they will not be dedicated," he concluded. 
Mai Lan

Officials have proposed stricter punishment on those charged with child abuse at a meeting with the government, supervision delegation of the National Assembly and other agencies on January 15.

While efforts are being made to prevent violence against children, much more work still needs to be done.