Infants from the central and southern region with a severe irregular heartbeat who weigh less than 20 kilogrammes can now be treated with radiofrequency catheter ablation at Children's Hospital 1 in HCM City.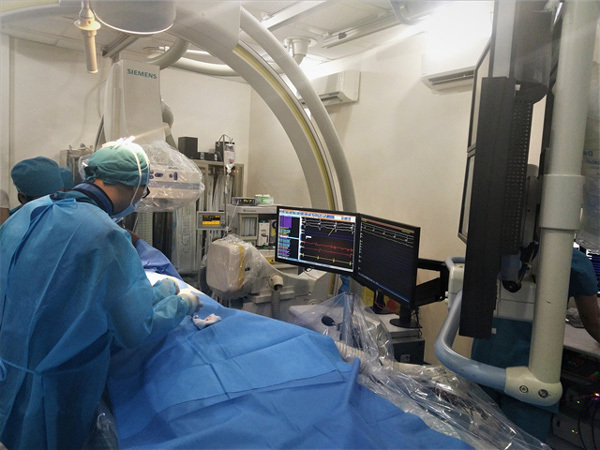 Doctors at Children's Hospital 1 in HCM City perform radiofrequency catheter ablation on a seven-month-old baby with Wolff-Parkinson-White syndrome and Ebstein anomaly, both of which cause a rapid heartbeat. — Photo courtesy of the hospital
Previously, children from the southern or central regions had to be treated at Vietnam National Children's Hospital in Hanoi.
In the past, the procedure could be performed only on babies who weighed more than 20 kilogrammes by doctors at Cho Ray Hospital and heart specialty centres in HCM City.
Infants weighing less than 20 kilogrammes received only medicine, and if it failed, they were likely to die, according to Dr Vu Minh Phuc, a consultant on heart surgery at the city's Children's Hospital 1.
Dr Bui Gio An of the hospital's heart department said that most patients receiving radiofrequency catheter ablation were usually older than five years old and weighed more than 15 kilogrammes, according to international medical literature.
"Babies under one year old with low weight pose challenges for heart specialists to intervene," An said.
In November, the department admitted a 7-month-old patient weighing 7kg from the southern province of Binh Duong, with abnormally rapid heartbeat and constant fatigue.
The child suffered from an Ebstein anomaly, which is a rare heart defect of the tricuspid valve between the upper right chamber and the lower right chamber.
After an electrocardiogram and examination, the department's doctors said the child had Wolff-Parkinson-White syndrome, an extra electrical pathway between the heart's upper and lower chambers, which causes a rapid heartbeat.
The syndrome can lead to death if not treated in a timely manner, An said, adding that medication was prescribed for the patient to prevent irregular or rapid heart rhythms from continuing to occur.
Because the medication failed, the department's doctors decided to carry out an electrophysiology study and a radiofrequency catheter ablation. Two hours after treatment, the rapid heartbeat was under control and the patient recovered.
The patient weighed less than any other previous patients treated with this method by doctors in the southern and central region.
Since June, when it began performing this technique, the hospital has performed radiofrequency catheter ablation on 40 older patients.
In the northern region, Vietnam National Children's Hospital has performed radiofrequency catheter ablation on infants as well.
The technique should be performed only when medication fails, because complications can occur after treatment, according to Phuc.
An said that health insurance covers the treatment.
The prevalence of children with congenital heart disease in the country is 1/100 and with Wolff-Parkinson-White syndrome 1/1,000, according to Dr Nguyen Tri Hao, acting head of the heart department at Children's Hospital 1.
According to Phuc, heartbeat disorders are often complications from heart surgery on children with congenital heart diseases. — VNS

The adoption of the latest advancements in cardiovascular surgery such as robot-assisted surgery and three-dimensional (3D) laparoscopic surgery has resulted in better treatment of cardiovascular diseases in Vietnam.

Doctors at Paediatrics Hospital 1 in HCM City have performed open heart surgery on a prematurely born baby weighing only 1,600 grammes.