Phan Thi Tu, a textile factory worker in Binh Tan District, HCM City, has welcomed Tet (Lunar New Year) far from home for three years, and 2020 will be no different.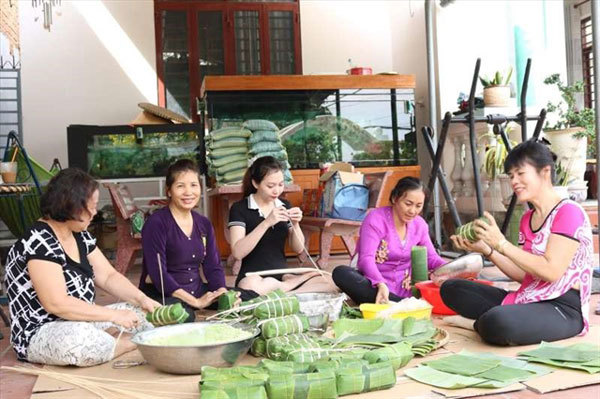 Bui Thi Ben, second from left, owner of rented house complex in HCM City's District 9, makes chung cake for migrant workers who can not afford to go back to their hometowns to welcome the new year. Photo tienphong.vn
Since she had her second baby three years ago, Tu and her husband have barely been able to make ends meet. It would cost the four-member family about VND7 million (US$304) to pay for transportation to their hometown in central province of Nghe An, not to mention expenses on Tet (Lunar New Year) presents.
"We would have to spend several months of wages to go to our hometown. When Tet comes near, some of our relatives call and ask when we would go back. Due to financial difficulties, we can only say next year," Tu told Tiền Phong (Vanguard) newspaper.
This year is the first time young woman Nguyen Thi Thuy from the central province of Quang Binh will welcome Tet in a city more than 1,000 km from her hometown.
Though she has worked for a footwear company in HCM City's District 12 for more than a year, her small Tet bonus is not enough to go home.
"I gave all of my VND10 million ($435) savings to my parents to buy new clothes for my younger sisters and brothers," she said.
Migrant workers who can't get home for the festivities like Tu and Thuy usually gather with their neighbours at the rented house complexes on New Year's Eve.
Sympathising with migrant workers, Bui Thi Ben, owner of a rental house complex in District 9, makes chung cake and pickles, traditional Vietnamese New Year dishes, and gives them for free to the workers.
"I want to share and hope to make them feel warmth when they welcome Tet far from home," she said.
Although Tet far from home is not as warm as in their hometowns, welcoming Tet with compatriots goes some way to softening the blow, Tu said.
According to unofficial statistics from HCM City, the city has about 2.2 million labourers.
A recent report at 11 foreign direct investment enterprises in Linh Trung I Industrial Park where 37,600 labourers work found the average monthly income per person is VND6.2 million ($270).
Families with one child save only VND300,000 ($13) per month on average, while those with two children struggle to make ends meet.
Wages owed
According to the Labour Federation of the southern province of Binh Duong, which hosts the largest number of enterprises and industrial parks nationwide, about 100,000 internal migrant workers will not return to their hometowns for the upcoming holiday for various reasons.
A number of labourers at industrial parks in Binh Duong feel desperate as their Tet bonus has been delayed until after Tet, Tiền Phong reported.
"I will be paid the wages of the last month before the holiday and my Tet bonus after the holiday," said Truong Dan Huy, who works at Viet Huong Industrial Park.
Tran Thanh Liem, chairman of Binh Duong Province's People's Committee, said the province would allocate more than VND217 billion ($9.4 million) to support workers.
While many migrant workers cannot return to their hometown for Tet holidays, some others find themselves lucky enough.
As well as bonuses, enterprises in HCM City have offered supermarket vouchers and free train and bus tickets from the city back to Nghe An and Thanh Hoa on January 20 (December 26 in the lunar calendar), which enables many workers to return home for the holiday for the first time in years.
Mai Thi Giang, working at Kenda Viet Nam Rubber Company in Trang Bom District, Dong Nai Province, will be reunited with her family after five years of separation.
"We can afford monthly living expenses. Going back to our hometown to reunite and welcome Tet is such a dream. The dream now has come true." VNS

More than 1,000 workers from a foreign-invested Taiwanese company in the northern province of Ninh Binh have returned to work after three-day strike over low Tet bonuses.

Most workers are looking forward to receiving their Tet bonuses at this time of year, but a recent revision to the Labour Code has got them worried about what future Lunar New Year bonuses will have to offer.