Minister of Health Nguyen Thanh Long said that the current wave of Covid-19 in Vietnam is much more complicated than the previous ones and the new virus variant has spread in an unprecedented way.
The 4th outbreak – the latest – occurred on April 27 and so far the number of locally-transmitted cases has reached nearly 600 cases across 26 provinces and cities. The remarkable feature of this wave is that it is much more complicated for three reasons.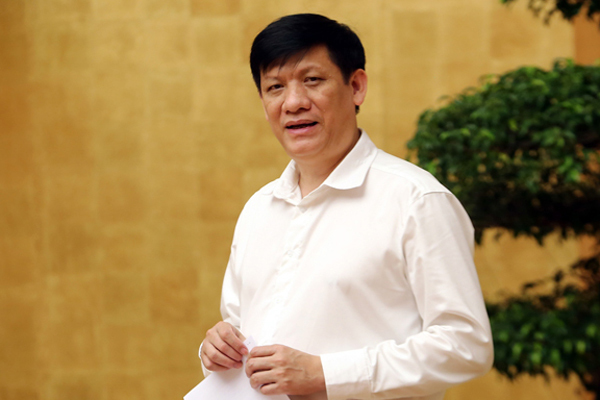 Health Minister Nguyen Thanh Long said that the current outbreak is still under control.
First, many pandemic hot spots were detected at the same time in Vinh Phuc, Da Nang, Bac Ninh and many other localities.
Second, there are many sources of infection, from foreign experts who entered Vietnam for business, from the community, from hospitals and from hospitals to the community.
Third, the virus strain this time is different from the previous waves. The current major outbreaks are mostly infected with the Indian variant which can spread rapidly.
"If the British virus strain spreads 1.7 times faster than the old strains, the Indian variant is more infectious than the British strain, so epidemic prevention activities must be very urgent," Mr. Long said.
Since the new wave, the Ministry of Health has been on a very high level of alarm. The ministry has taken many measures to stamp out the disease and has pursued a consistent strategy of mobilizing the entire political system, army, and people to participate in the fight against the epidemic.
The Ministry has implemented the principle: detection, prevention, isolation and suppression of epidemic combined with testing and treatment solutions.
"At present, we have shifted to active attack, meaning that previously we focused on tracing potentially infectious cases, those who have close contact with Covid-19 patients. But this time we are focusing on large scale testing, especially for high-risk groups," Mr. Long said.
In addition, Vietnam has developed different scenarios on Covid-19 prevention in order not to be passive in all situations.
With the appearance of the Indian variant, the Ministry of Health decided to extend the concentrated quarantine period to 21 days instead of 14 days as before and increase the number of tests.
The Ministry of Health has also asked provinces that have not had locally-transmitted cases to raise the alarm level and implement all disease prevention measures.
All medical facilities are required to implement anti-epidemic measures at a higher level. Accordingly, they have to perform periodic screening tests for patients and patients' family members, health workers, and strengthen testing in some high-risk areas such as the emergency recovery or hemodialysis wards.
The Health Minister stressed that so far local governments are very confident in controlling the outbreak, and newly detected cases are mainly those are under quarantine or in isolated areas.
Thuy Hanh

Two virus strains with a strong transmissible ability have been detected in Vietnam. New Covid-19 outbreaks have been reported in many localities within very short time periods, sometimes within two days.