More coronavirus patients would be discharged from hospital on Tuesday, with the first two being released in the morning according to the Ministry of Health.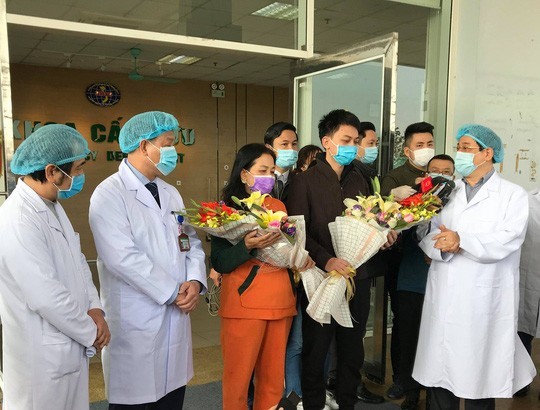 Two coronavirus patients were discharged from hospital on February 18. Photo by nld
A ceremony was held at the Hanoi-based Hospital for Tropical Diseases at 10 am for two patients from Vinh Phuc Province.
The two included a 29-year-old man and a 55-year-old woman who were tested positive for coronavirus and admitted to hospital on January 30 and February 9, respectively.
On February 10, three other coronavirus patients were also released after being treated at the hospital.
According to director of Vinh Phuc Provincial Department of Health, Nguyen Thanh Hai, four other patients have also recovered and shown negative results for the virus in two latest tests at a local healthcare centre.
"We're going to discharge two more patients later today," he said
13 out of 16 coronavirus patients in Vietnam have been successfully treated while three other are also recovering according to the health ministry, adding that no more new cases have been reported over the past five days. Dtinews

The research finds that more than 80% of cases are mild and the sick and elderly are most at risk.

No new cases of the coronavirus outbreak in Vietnam had been reported in recent days and infected patients were responding well to treatment.