As many as 22 people have been charged with either murder or resisting arrest in the fallout from a land dispute that left three police officers and one rioter dead in Dong Tam Commune in Hanoi's suburban district of My Duc last Thursday.
Le Dinh Cong, a son of the deceased Le Dinh Kinh, appears in a Vietnam Television news broadcast on January 13 – PHOTO: VTV
Director of the HCMC Police Department Doan Duy Khuong was quoted by Thanh Nien newspaper as saying on Monday that city investigators have detained the 22 protesters.
Of the accused, 20 have been charged with murder and two others have been charged with resisting arrest.
They include Le Dinh Chuc, Le Dinh Cong, Le Dinh Uy, Le Dinh Doanh, Le Dinh Quan, Le Dinh Quang, Le Dinh Hien, Nguyen Van Tuyen, Bui Van Tien, Bui Van Nien, Tran Thi La and Nguyen Quoc Tien.
Aside from the 22 individuals, four others are also being held in police custody. They are Nguyen Thi Dung, who allegedly resisted arrest, and Nguyen Xuan Dieu, Tran Thi Phuong and Dao Thi Kim, being held on suspicion of murder.
Many of these individuals are relatives of the deceased protester, Le Dinh Kinh, aged 84. This de facto community leader was found to have been holding a grenade when his body was examined, according to authorities.
Some of the accused told investigators that Kinh was the mastermind behind the civil disturbance, according to the local media.
His son, Le Dinh Cong, who is among those arrested for murder, has confessed to spending VND33 million (US$1,400) on gasoline and weapons, as well as leading the protest by throwing rocks, firebombs and grenades, according to national broadcaster Vietnam Television (VTV).
Lengthy preparations for terrorism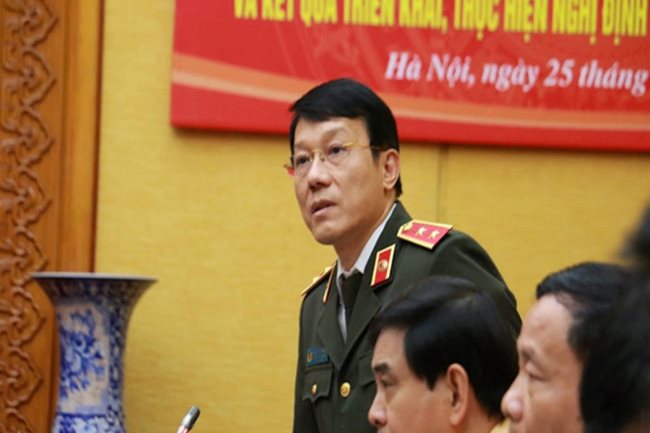 Deputy Minister of Public Security Luong Tam Quang speaks at a press briefing on a deadly disturbance, held in Hanoi on January 14 – PHOTO: TNO
Deputy Minister of Public Security Luong Tam Quang was quoted by Thanh Nien newspaper at a press briefing in Hanoi today, January 14, noting that investigators had seized eight grenades, six explosive balls, 38 firebombs and three cans of gasoline, together with steel sticks, knives, sickles and nunchakus.
Quang added that investigators had also collected evidence on the collection and spending activities of the riot group, called "Dong Thuan," from Kinh's house. Several pieces of evidence suggest the group tried to drum up support from foreign reactionary organizations.
All of the arrested individuals have confessed their violations. VTV broadcast information on several of the rioters on Monday evening, according to the deputy minister.
"The conspiracy and intention to commit acts of terrorism, sabotage and aggression by the rioters in Dong Tam Commune had, in fact, been the result of careful preparation," he said, adding that plans had been made since 2017.
Last Thursday, the rioters tried to prevent officers, authorized by the Ministry of National Defense, from building a fence around the Mieu Mon Military Airport area.
The village is roughly a kilometer away from the airfield. Construction of the fence to protect the airport premises began on December 31.
On the same day, three police officers lost their lives: Colonel Nguyen Huy Thinh, 48; Senior Lieutenant Duong Duc Hoang Quan, 28; and Senior Lieutenant Pham Cong Huy, 27. Their funeral will be held on Thursday at the National Funeral House at 5 Tran Thanh Tong Street in Hanoi.
A clash over the same land resulted in villagers holding more than 30 police officers hostage for a week in 2017. SGT

General To Lam, Politburo member and Minister of Public Security, has visited and extended his deep condolences to the families of three police officers who died while doing mission in Dong Tam commune, My Duc district, Hanoi.

The Ministry of Public Security has announced that three police officers sacrificed, one person died and another was injured during a disturbance in Dong Tam, My Duc District, Hanoi on January 9 morning.