Twenty years ago, Tran Hoang Long of HCM City discovered that his blood type was B negative, shared by less than 5 per cent of the world's population.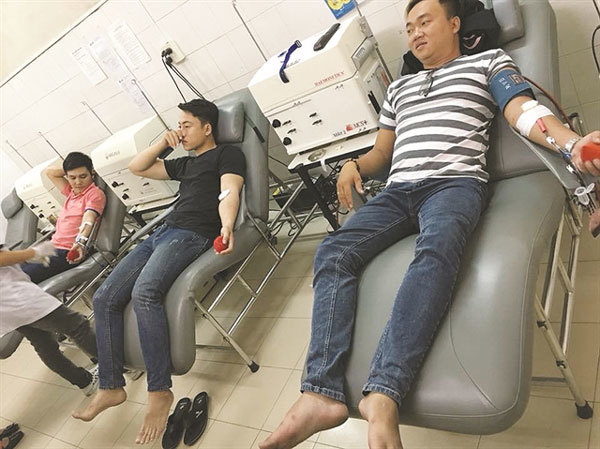 Nguyen Anh Minh, (right) deputy head of the HCM City Club for People with Rare Blood Types, donates blood. — Photo courtesy of Nguyen Anh Minh
Since that time, the 48-year-old motorbike taxi driver has been donating his blood regularly as one of the members of the Club for People with Rare Blood Types in the southeastern region.
People with B-negative blood can donate blood to patients with B positive, AB positive, AB negative and B negative blood types.
Cho Ray Hospital in HCM City set up the club in 2010.
"The most recent call I got was from the husband of a patient from Binh Thuan Province. His wife needed blood for surgery," Long recalled.
After receiving the call at noon, he immediately drove his motorbike for 200 kilometres from HCM City to Phan Thiet City in the province.
When he arrived at 6pm, he donated his blood after it was tested, and then drove back to HCM City. After returning home, he received a call from the husband, who thanked him for the blood donation.
"That always makes me happy and it inspires me to continue doing something useful," Long said.
Over the last 20 years, he has donated his blood six times a year.
He often ignores doctors' advice to wait for at least three months between donations in order to restore iron to his blood.
"I know this is not good for my health but I cannot say no if a patient needs my blood to be saved. My experience is that I always feel good after blood donation," he said.
Like Long, Nguyen Anh Minh, deputy head of the HCM City Club for People with Rare Blood Types, which operates under the city's Human Blood Donation Centre, also has B-negative blood type.
Minh has donated his blood 40 times. He once travelled to Nha Trang in Khanh Hoa Province to donate blood to a man with bone marrow failure, a condition that reduces red blood cells and requires blood transfusions.
Minh's daughter was at a city paediatrics hospital at the time, so he first made sure that his daughter was OK before going to Nha Trang. The man, however, died. "I felt depressed after hearing his mother reveal the bad news," he said.
Both Minh and Long donate blood for humanitarian reasons, although they are sometimes accused of trying to earn money from the patients' relatives.
"The money that the relatives pay to hospitals is for testing. We do not get one Vietnamese dong. After donating blood, we usually don't even meet the patients or their relatives. We don't need them to thank us," Minh said.
Their uppermost concern is to save someone's life, he added.
Donor shortage
Through their stories, Long and Minh hope that more people in the country will voluntarily donate blood.
But the country faces a challenge to increase the number of donors of all ages, according to health experts.
One out of 100 people in Vietnam volunteers to donate blood, while the World Health Organisation recommends the rate to be 2 per cent.
Most of the blood donors in Vietnam are between 18 and 25 years old.
Dr Le Hoang Oanh, deputy head of the Blood Transfusion Centre at Cho Ray Hospital, told Vietnam News Agency that the shortage of rare blood required the establishment of special donor clubs for volunteers with rare blood types.
"The proportion of people with rare blood types is 0.04 to 0.07 per cent of the country's total population," Oanh said.
Minh said that HCM City had many blood-donor clubs. At the club where Minh belongs, each member receives money to pay for a periodic health examination and is given a free health insurance card and hepatitis B vaccine.
VNS