Vietnamese cities are set to benefit from greener transport after the Ministry of Construction and GIZcycl signed a Memorandum of Understanding on the development of technical guidelines for the design of cycling infrastructure.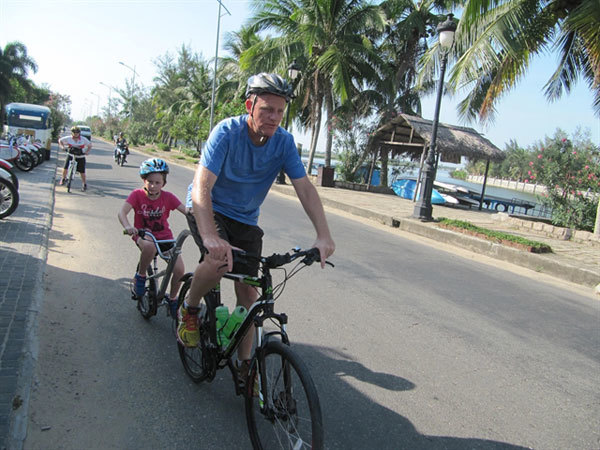 Tourists use bicycles to travel around Hoi An in Quang Nam Province. The German Development Cooperation (GIZ) and the Ministry of Construction signed a Memorandum of Understanding on the development of technical guidelines for the design of cycling infrastructure. VNS Photo Cong Thanh 
Under the partnership, the DeveloPPP programme 'Promote and Pilot a Public Bike-Sharing (PBS) Scheme in Vietnam towards Sustainable Urban Mobility and Smart Cities', funded by the German Federal Ministry of Economic Cooperation and Development (BMZ), will support the ministry's Administration of Technical Infrastructure (ATI) by providing a technical co-operation package. The support package will engage experts from across the world and include stakeholder consultation workshops with both national and international organisations.
Mai Thi Lien Huong, ATI Director General, said: "In order to motivate urban residents to use bicycles, this type of transport needs to be considered and facilitated through urban traffic infrastructure systems to create convenience and safety for users."
Rapid urbanisation has led to pressure on urban public services, including transport and the environment. Urban planning and road networks in Vietnam are designed for motorised transport and largely disregard the rights and needs of cyclists. Experience from cities across the world shows that safe cycling infrastructure is a key consideration when people choose their preferred mode of transport.
Cycling is a healthy, efficient, and sustainable means of transport for cities, reducing energy consumption and carbon emissions, and improving air quality and the health of urban residents.
Several cities in Vietnam have been encouraging their citizens to cycle by piloting cycling routes. The challenges faced by these pilot schemes revealed the need for standard guidelines on the development and design of cycling infrastructure.
This is the first time technical guidelines on cycling infrastructure design for urban areas have been developed in Vietnam and the ATI will lead the process with the participation of related stakeholders, including the Ministry of Transport.
GIZ will collaborate with the World Resources Institute (WRI) to provide support by connecting Vietnam with international organisations, bringing international experience and expertise into the process.
"The guidelines will be the basis for upscaling the pilot projects on cycling infrastructure in Hoi An and Thua Thien-Hue, where GIZ is supporting the development of Bicycle Development Plans and public bike-sharing schemes. These will pave the way for infrastructure for non-motorised mobility in urban areas throughout Vietnam," said Kia Fariborz, Chief Technical Advisor at GIZ.
The experience of organisations and cities from around the world will provide valuable practical insights for the ATI, ensuring that the guidelines meet the needs of Vietnam's urban residents.
Last year, Hoi An, in co-operation with the German Development Co-operation Agency (GIZ) and Health Bridge Canada, launched a pilot bicycle sharing system in encouraging local residents moving from petrol power to pedal power in the UNESCO-recognised World Heritage Site.
Hoi An is the first city in Vietnam organising a successful car-free day and non-engine streets since 2002. The city designed bicycle lanes at some destinations. VNS 

Public bicycles are believed to be a good solution to the urban transport question as it is 'green' and suited to sustainable development.

Hoi An city in the central province of Quang Nam on June 3 launched a pilot bicycle sharing programme in cooperation with the German Development Cooperation Agency (GIZ) and Health Bridge Canada.