A restaurant in Vinh City, Nghe An Province is offering hundreds of meals every day for Covid-19 frontline workers.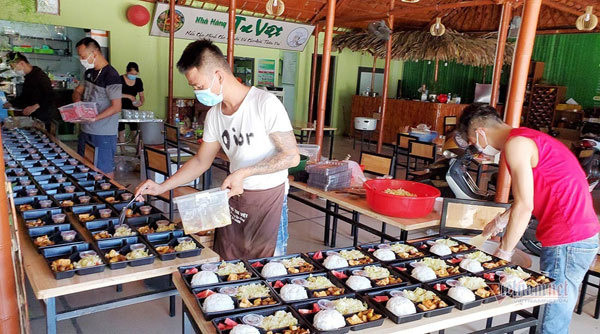 Preparing meals for frontline workers.
Nguyen Thanh Hai and his wife, Nguyen Thi Huyen Trang, are the owners of Tre Viet Restaurant in Vinh City.

Hai and Trang and three employees still work in the kitchen despite the heatwave. After a Covid-19 patient was found living in Ha Huy Tap Ward, the area has been blocked and their business was affected. However, Hai said that after seeing the hard work of the frontline workers, he and his wife came up with the idea to turn their restaurant into a kitchen for frontline workers and people in quarantine centres for free.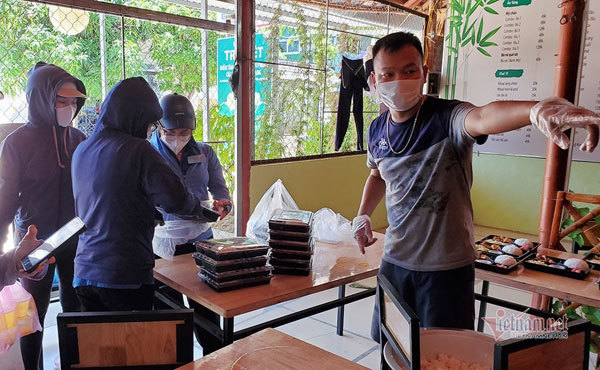 Free meals also provided to poor people.
"At first, we only cooked for 25 people a day because my wife was pregnant and we were busy with our little kids too," he said. "As the weather becomes hotter by the days, it also becomes harder to work in the kitchen. Luckily, we received donations from the managers of an online automobile forum in Nghe An so we could provide meals to 130 people a day immediately."

Hai and his wife can now provide meals to 500 people a day to the frontline workers and people in quarantine centres in Ha Huy Tap, Hung Dung, Hung Phuc, Cua Nam and Dong Vinh wards. They also provide meals to 30 people with difficult backgrounds in Ha Huy Tap Ward.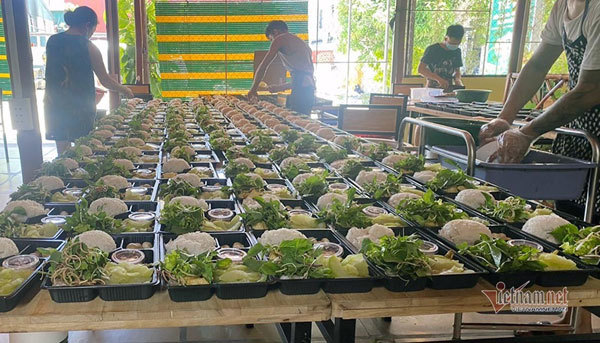 Hundreds of free meals provided by Tre Viet Restaurant.
"It has been a week since we started," Hai said. "Everyone is tired but we want to do this for at least a full 14 days. We hope the outbreak in Vietnam will be controlled soon."

Nguyen Thi Kim Hue, chairman of the Women Union in Ha Huy Tap Ward, said "The kitchen often provides 128 free meals in the afternoon and evening. Hai and his wife were one of the models in the area."
VietNamNet/Dtinews

Mai Anh Duc directed production for sanitizers and disinfecting devices remotely while still being treated for Covid-19, and donated them all to hospitals and quarantine zones across Vietnam.

Sleeping three or four hours a day, being ready to work regardless of the time, or spending hours sweltering inside a protective suit.