His spinal deformity may have robbed Phan Vu Minh, from the Mekong Delta province of Vinh Long, of the ability to walk, but it will never extinguish his desire to travel and live a meaningful life.
Minh, 29, who has been wheelchair-bound since he was 20, following years of seeking treatment, knows what it's like to overcome misery and make dreams come true.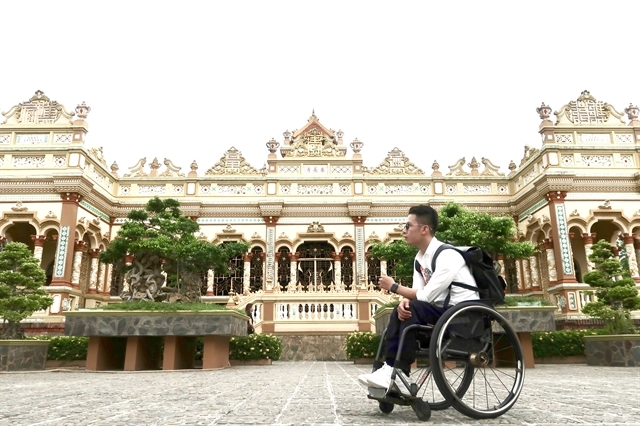 He has already found his way to beautiful landscapes and adventure destinations in Vietnam's south and central regions on his three wheeled motorbike, and is now planning to head north as part of his journey to see what else his homeland has to offer.
It took him ten years to define the word "freedom" in a way no one else has ever done.
The young man with the bright smile wins the heart of everyone he encounters, and they're even more impressed upon hearing of his efforts to overcome hardship and take his trips of exploration, which he's done since 2017.
"I was very hard on myself when I found out I would never walk again," Minh remembered. "I kept asking, 'why me?'. I was frightened of everything around me, especially the looks from loved ones when I would try to stand up."
"After a long period of depression and disappointment from treatments that did nothing to help, I went out and found my own concept of freedom."
"Travel eases my pain, gives me positivity, and helps me reclaim some of what I've lost. The more I travel, the more beautiful things I find."
His first act in hitting the road was getting a mechanic to turn his regular motorbike into a three-wheeler, based on his own designs.
The bike was retro-fitted with a sturdier frame and a wide footplate to accommodate his wheelchair.
Getting on and getting off involves Minh simply lowering and raising the floor, and the bike pretty much rides like a two-wheeler.
It is this vehicle that enables Minh to fulfil his dream of travelling around in his own unique way.
He set out in 2017, visiting Bac Lieu Province in the Mekong Delta first off. He's now visited 30 of Vietnam's 63 cities and provinces -- no small feat given the circumstances.
"Wherever I go, the motorbike attracts attention," he said. "Some people are so interested they get their phones out straight away and take a few shots. I find it exciting."
The bike can carry three at a time, so he's more than happy to ferry around family and friends, like his nephews.
When asked how far he plans to travel, Minh said there is no target and he just sets out whenever his wanderlust needs satiating.
"I will eventually travel all around Vietnam," he said. "I would have gone up north this year if COVID-19 didn't strike."
No destination is out of the question and no mountain pass too rocky or too high.
He has already conquered Bảo Lộc, Hai Van and Ca passes, and even Langbiang Peak in the Central Highlands' Lam Dong Province.
"The trip to Langbiang was my most memorable, as I had an accident," Minh said.
The tumble saw him stay in bed for several months, and the time he needed to recover was just what he needed to consider where to head to next.
He hopes that what he has done and plans to do will inspire others, especially young people with disabilities, to seek out a happy and fulfilling life despite the hardships.
Minh now runs a small business selling bonsai, which funds his travels. His three-wheeler is put to use here as well, delivering orders to customers.
"I meet lots of different people when I'm travelling," he said. "People also know about me through the business. Many people in a similar situation call me to talk and share their feelings. Some are struggling with negative thoughts, as I did for years, so I try to encourage them to come out of it and reach the other side."
He hopes his business and travels give others the motivation to overcome their circumstances and be more open and more community-minded.
"It's important not to succumb to negativity," Minh said.
For now, he is focused on his business so that he has the funds for travelling, and he told Vietnam News that he plans to open another YouTube channel.
"Honestly, though, I prefer a peaceful life over chasing something far away," he said. "But you should do whatever you like and live a leisurely life.
VNS

A disabled girl from the Central Highland province of Kon Tum has made her dream of going to university become a reality.